CASTLE GALLERY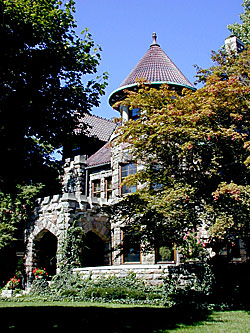 I received E-Mail that said:
Jim, I found a new castle in Fort Wayne. It's called Castle Gallery.
Later, I received e-Mail that said:
Castle Gallery has a website at:
http://www.castlegallery.com/castle_tour.htm
Later, I received E-Mail that said:
The castle at 1202 West Wayne Street in Fort Wayne was built in 1905 as a wedding present for B. (Bertrand) Paul Mossman. His father, William Mossman, was an owner of Mossman Yarnell Company, a hardware wholesaler. Although it has the massive stone construction and round tower of the Romanesque style, the house of has no round-arched openings. Instead, it has Tudor (or pointed) arches and crenelated parapets, suggesting an English castle. Originally, the open front terrace was covered by a tile roof matching that of the house.
Ethel Mossman, Paul's sister, was interested in George Jacobs, who in 1901 was a chemist at General Electric's Fort Wayne Works. He moved to Cleveland in 1905 and married Ethel in 1907 where she helped him test various magnet wire coatings. William Mossman, who was lonesome and widowed, volunteered to finance George's work if they'd move back to Fort Wayne; in 1911, William and B. Paul Mossman formed Dudlo Wire Co. Jacobs perfected an enamel for magnet wire, and the company experienced great success. Among other things, Dudlo's wire made possible cheaper ignition coils used in the Model T and other cars. Dudlo was sold in 1927 to General Cable Corporation, who managed to fail completely in the magnet wire business by 1933.
The depression may have helped, but Dudlo "alumni" managed to form Rea Magnet Wire, Inca Manufacturing (now Phelps Dodge), and New Haven Wire, which together produce 2/3 of the world's magnet wire. But in any case, the Mossmans were richer than before. In 1949, Paul gave his house to the Fort Wayne Museum of Art. (The Castle Gallery site says 1959; it's wrong.) The museum in 1984 built a new building, far more frightening and unusable, as modern architecture tends to be. The architectural firm of Wing and Mahurin took over the castle then, and finally in 1995, the Castle Gallery opened.
On 3-12-15, I received e-mail that said:
Castle Gallery is owned by Jodi Hemphill Smith. I think his first name is Mark. Castle can be found on Facebook and you maybe can contact her for information about the place. I know that not too long ago they found an original stairway which had been covered over.
Back to "Castles of the United States"

Preliminary research for this page done by Phil Bilzor.