TENNEY CASTLE
GREY COURT CASTLE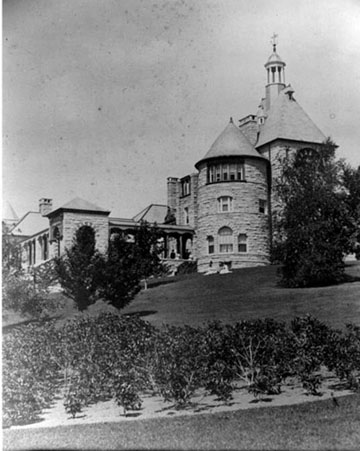 Tenney as it was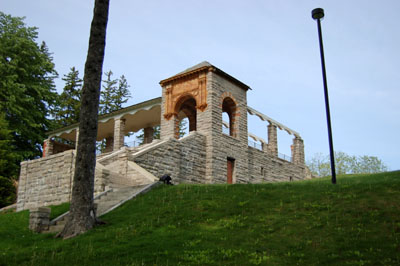 Tenney as it is now
I received E-Mail that said:
I am a native of Methuen Massachusetts. I've not lived there for the past 35 years, but remember as a child refernece being made to 2 castles in Methuen. One was the Searles Castle which you list under your MA listing. The other was the Tenney castle, called Grey Court. While you mention this estate in the piece on Searles' estate, you do not have further info in your site. I've often been intriqued by the history of my former home town. Could you ask someone out there if there is any information/pictures of the Tenney estate. Also, parts of the grounds of the estate(s) became part of Methuen. As a child I remember riding past great statues, monuments, castle walls, etc. All of this was great for a child whose imagination could picture the mideviel life lived in my hometown. Now I am interested in learning about the estates themselves and what has become of the grandeur that once made Methuen, MA a place to remember. What a shame to let our history disappear.
Later, I received E-Mail that said:
I WENT TO TENNY JR HIGH SCHOOL. THE SCHOOL WAS NEXT TO TENNY CASTLE ME AND A FRIEND PLAYED THERE ALL THE TIME. I WAS TOLD IT WAS A MONASTERY. IT HAD BEEN ABANDONED FOR SOME TIME AS THE ROOF WAS FALLING IN. I LIKE EXPLORING THE CASTLE AND DID SO THOROUGHLY. THIS WAS IN 1977, ON HALLOWEEN THE SAME YEAR IT WAS SET ON FIRE AND DAMAGED. AFTER THAT IT WAS NOT THE SAME.
Later, I received E-Mail that said:
Grey court was built by Charles Tenney and was used as a summer home. Building began in 1890 and ended in 1893. Mr. Tenney lived in Methuen prior to moving to New York and built Grey Court after he moved.
Later, I received E-Mail that said:
Mr. Tenney's castle, "Grey Court" in Methuen, Mass., no longer stands. Only the gatehouse remains, and it is no castle.
Later, I received E-Mail that said:
Stumbled across your website, while doing some research on the city of Methuen, where I live and work. Regarding "greycourt castle", did you know that the ruins, and surrounding 25 acres are now a state park? Methuen and the State have just broken ground, and are restoring the grounds/gardens to their former splendor. They are also going to add walking trails, and an amphitheater over the castle ruins.
Later, I received E-Mail that said:
The Grey Court Castle is now more of a garden. I remember going to the castle when I was in High School while filming a documentary for Ghosts' of Methuen. It is jaw dropping to see the difference of the once over grown, mosquito ridden, charred castle remains that I once taped and the beautiful park/garden that it is today. Though is would've been nice to see the castle in it original splendor, one can certainly enjoy the beauty it's remains have become.
On 7-1-10, I received e-mail that said:
I found the ruins to Grey Court deep in the brush and filmed a scene for a film i'd outlined that actually needed castle 'ruins'. At the time, the Grey Court ruins were over grown and half caved in...perfect. This was just a few weeks before they started clearing it to make a park. We have since shot several more scenes in other locations and will use the 'revised' Grey Court later, since it will also fit the original storyline. If anyone is interested, more info on this film will be posted soon on our website. Google "Sky Asylum" and look for details on a film called, Throne Away. If it's not up there yet, it will be shortly.
On 1-19-12, I received e-mail that said:
I'm not sure of the timeline (probably early 70's) – but the Tenney Castle was home to a program for recovering drug addicts. My sister was living at the castle in this program and we would visit on the weekends. It was a beautiful space to explore as children. The front portion was a long hallway down which we would run (front of the photo) ending in that corner portion (which I think was a stairway, behind which was the kitchen). I'm not sure who ran the program – private or government or how long it lasted. I have some really fond memories of interacting with the residents and exploring the rooms, towers, nooks-crannies and grounds.
Back to "Castles of the United States"

Before photo sent in by Johanna.
Now photo sent in by Heather Condo.