LYNDHURST CASTLE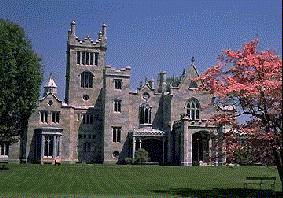 Lyndhurst Castle is located approximately one-half mile south of the New York State Thruway (I-87) at the Tappan Zee Bridge on U.S. 9 in Tarrytown, New York. It was designed in 1838 by Alexander Jackson Davis. In 1864-65 Davis increased the size of the mansion for the second owner, George Merritt, who renamed the estate Lyndhurst. In 1880, the estate was purchased by Railroad magnate Jay Gould who used it as a country retreat until he passed away in 1892.Gould's daughters, Helen and Anna inherited the estate. Helen died in 1938 and Anna in 1961. At that time, the estate passed to the National Trust for Historic Preservation.
For more information contact;
Lyndhurst Manor
635 South Broadway
Tarrytown, New York 10591
(914) 631-4481

Back to "Castles of the United States"