MORTENSEN CASTLE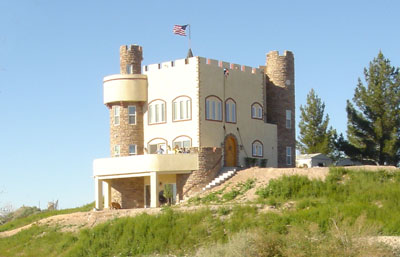 I received E-Mail that said:
We just found your web sight, it is great! We would like to add our almost finished Castle to your collection.
It is a very small castle, 2,700 square feet. It is located in Logandale, Nevada, which is North East of Las Vegas off I-15. We are just 20 minutes from Lake Mead and Valley of Fire. We bought 2 1/2 acres and log cabin plans. We ran into many problems with the local building codes and gave up for a time. We have lived in the 8 X 40 ft. 1953 Pan American Mobile Home for 9 years with our 3 children while we got out of debt and during that time the log cabin developed into a castle.
We have plans to pump the water from our irrigation pond to a landscape moat around the castle and under the drawbridge, (front porch) and then down a waterfall along the steps to the dungeon. We have a spiral staircase off the loft that goes to the roof, which is a 1000 sq. ft. deck. We like to fly kites, launch water balloons, and shoot potato guns. Not quite hot oil, but we get by. We found an old church bell in the pioneer shopper and mounted it in the parapet wall, with a rope down to the front door. We will send updates as we progress. We have done most of the work ourselves and so it goes slow.
Later, I received E-Mail that said:
I went to visit my brother, who moved to Las Vegas, while I was there, being the "castle nut" that I am, I looked up the Mortensen's castle. I asked directions at the gas station in town. The lady knew of the castle, it's a small town! We followed her directions. Found the castle with no problem. It is a beautiful castle that anyone would like to call home! I knocked on the door to ask about taking some pictures, but I got no answer. I went ahead and took a few pictures.
I stopped by the gas station on the way out of town to thank the lady who gave me the directions. Told her that they weren't home. She said that it was too bad because they are really nice people and would have been glad to meet me!
Back to "Castles of the United States"

A special thanks to Wyatt & Connie Mortensen for the information on this page.