CASTILLO DE SAN MARCOS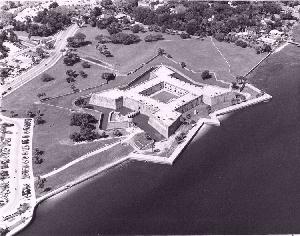 I received E-Mail that said:
About the only real castle in Florida is the one described below, complete with moat and drawbrige. It was also used as a prison to house the Seminole Indian leader Osceola in the 1840s.
CASTILLO DE SAN MARCOS NATIONAL MONUMENT, 1 Castillo Dr., St. Augustine, Florida. 1672-1696. Built on the site of several earlier wooden forts. Present stone fort, moat, and outworks built to protect Spanish territory in Florida as well as Spanish shipping along the coast. Oldest masonry fortification in continental U.S. Between 1680 and 1759 it was the hub of turmoil in the Southeast between the Spanish and English. Served as military prison in 19th century. Museum. Public. N.R. 1966.
This looks more like a fort than a castle, but it's still an interesting structure.