RAINBOW MESA CASTLE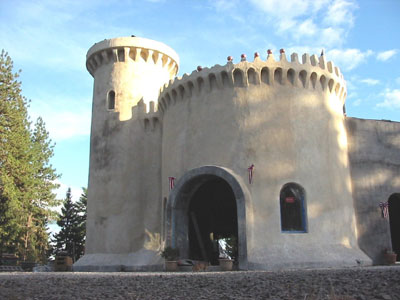 There is a castle under construction near Eugend, Oregon. They have been working on it for a while.
I received E-Mail that said:
We are making good progress on Rainbow Mesa. Here is a progress picture that is a few minutes old.
Later, I received E-Mail that said:
We are about to move into the castle! I thought I would send you some updated pictures. we have finished more since these were taken but this should help update your web page.
Rainbow Messa is for sale The listing price for now is $1,750,000. We will be starting phase two of the construction in the spring. Serious inquiries can be directed to Greg Swanson at Windmere Real Estate gregs@windermere.com
I will send you some more updated pictures soon. We have a photographer here this evening to capture some updates. The terrazzo floors with inlaid brass look amazing. The interior has a traditional lime plaster finish that is ready for fresco painting or left as is. The whole castle has come together very nice.
Back to "Castles of the United States"

Photo courtesy of Nolan Scheid