VASHON CASTLE ??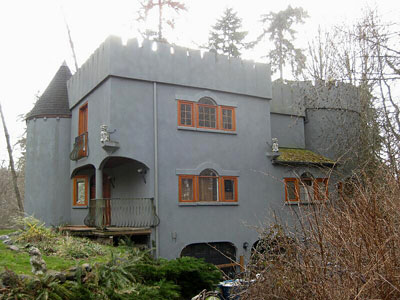 I received E-Mail that said:
I have another home below you might want to look at:
VAshon Castle.
On 1-3-08. I received E-Maail that said:
You where looking for more info on Vashion Castle. I just noticed that it is a B-n-B for sale:
http://www.bnb4sale.com/sale/washington/theislandcastle.html
Castle Hill B&B
26734 94th Ave SW
Vashon WA 98070-8426
Phone: 1-206-463-5491
On 2-20-09, I received e-mail that said:
I was in Vashon yesterday and had the luck to visit Vashon Castle. The current occupant, who has just moved in, told me the owner is a landlord who built it 6 years ago. The construction took 2 years and almost ruined the owner, mostly because of the round towers. The castle has nothing to do with Castlehill B&B as I could read on your website, it was intended to become a B&B but due to the recent crisis, the owner has to rent it.
Does anyone have more information about this.
Back to "Castles of the United States"

Thanks to Peter Millen for finding this castle.
A special thanks to Jules Bouteleux for taking and sending the photo.