GLEN EYRIE CASTLE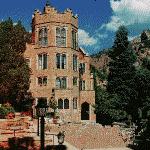 I received E-Mail that said:
There is another castle outside of Manitou Springs or Colorado Springs called Glen Eyrie. It is owned by an Organization called the Navigators or it used to be in the mid-80's anyway. It was built and owned by an English lord if I remember correctly complete with a moat and secret passageways. It is a beautiful retreat area and I have stayed there 3 times myself while attending a college in Denver. It is near Pike's peak and a place called Garden of the Gods. It has been more than 10 years since I have been there and I did not drive myself but went with friends and am sorry that I cannot give you better directions and/or information. It is truly captivating and the surrounding grounds are stunning. The whole castle is enchanting and you feel as though you step back in time when you walk through the main entrance.
Later, I found out that they have their own web site which you can visit by clicking here.
To return to this page, click on the BACK button.
General Palmer who started the Denver Rio Grande Railroad, founded Colorado Springs and numerous other projects built the castle at Glen Eyrie. He was not an English lord but his wife moved to England with his children prior to his death, I think. The castle has some neat inovations in it. I attended a meeting there about 20 years ago and found it very interesting. I'm sure the Navigators who own it would share the history of the castle with you.
Later, I received E-Mail that said:
In regards to Glen Eyrie, it was built in 1904 by war hero and railroad tycoon General William Palmer. General Palmer also founded Colorado Springs and donated the land for Colorado College. Glen Eyrie is a 67 room English Tudor-style castle with 24 fireplaces. The castle had many advances such as a primitive intercom system, and a chimney system that would hold the smoke until the wind was blowing in the right direction to take the smoke out of the valley. The enclosed valley is spectacular. In the fall a herd of big horn sheep graze on the grounds. My brother was married in the castle and my mother worked there for some time. It is a wonderful place to visit.