STORYBOOK LAND CASTLE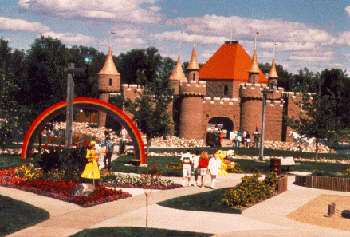 I received E-Mail that said:
I would like to tell you about, "Storybook Land" and it's "Castle" First of all it is not to be confused with, Storybook Island located in Rapid City South Dakota. Storybook Land, is located in Aberdeen, South Dakota. It's Castle is in the center of Storybook Land. It is a summer theater, and can be rented for parties, weddings, and other activities in the summer. Around the Castle, are mine stories, from Mother Goose, such as Jack and Jill, The three Little Pigs, Jack and the Bean Stock, Cinderella, and mine more. Also you will find mine Nursery Rimes, such as Hickery Dickery Dock, The Old Women and the Shoe Mary had a Little Lamb, and more.
Along with Storybook Land, the people of Aberdeen and surrounding area are still working on The Land Of Oz. When you visit Storybook Land & The Land Of Oz you are able to walk around and visit each story. Storybook Land and the Land Of Oz each have petting Zoo's, which have Goats, Chickens, Pigs, Turkeys, and Peacocks.
There is a wonderful old Carousal that was restored by volunteers from Aberdeen and the surrounding area. And a new train was added (and hopefully will be up and running this summer). The train will take you through Storybook Land and the Aberdeen Zoo, where you can see Buffalo, Elk, Lamas, & Deer. Then bring you back through the Land Of Oz, where you will pass the Carousal.
Wylie Park/Storybook Land/The Land Of Oz, is a 210-acre Park it includes, Camping, Picnicking. playgrounds, a swimming beach and miles of trails.
For more information you may call (605) 626-7015 or (888-326-9693)
Click here to visit sites with a little more information:
http://www.state.sd.us/state/executive/tourism/adds/aberd.htm
To return to this page, click on the BACK button.
http://www.aberdeencvb.com/
To return to this page, click on the BACK button.

Later, I received E-Mail that said:
There is a city in Scotland, UK called Aberdeen it is the original Aberdeen there is a castle there called Storybook glen just like the one in Abetdeen, South Dakota!
Back to "Castles of the United States"

Research for this page done by Phil Bilzor.