CAMPBELL CASTLE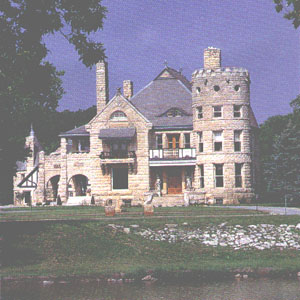 The 28 room Campbell Castle is located in Wichita Kansas. It was built by Colonel Burton Harvey Campbell between 1886 and 1888. The Campbells owned the castle untill 1910, when Walter Morris purchased it. In 1960 it was purchased by Maye Crumm who began calling it Crumm Castle, and for a while, it housed the Belle Carter High School which was operated by Crumm. In 1994 the castle was purchased by Terry and Paula Lowry for $300,000. To date, over two million dollars has been spent renovating the Castle and today it is a bed & breakfast known as The Castle Inn Riverside.
For more information, contact:
The Castle Inn
1155 N. River Blvd.
Wichita KS 67203
(316) 263-9300
Reservations: (800) 580-1131
Fax (316) 263-4998
E-Mail: 1castle@gte.net
Visit their homepage by clicking here.
To return to this page, click on the BACK button.
Later, I received E-Mail that said:
There is a castle in Wichita Ks that is commonly referred to as "Crumm" castle. It has been restored into a bed and breakfast. Probably for the last eight years or so. I know it has been here many years, and the material (limestone) was brought down the river several years ago... Here is a link to the castle webpage
http://www.castleinnriverside.com/castle.html

Back to "Castles of the United States"