SIBLEY CASTLE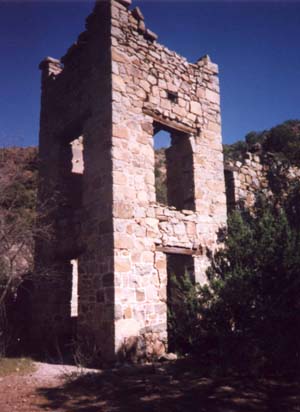 I received E-Mail that said:
Sibley Castle located in the Galiuro Mountains of Arizona, About 100 miles southeast of Phoenix . The name of town is Copper Creek (actually a old mining camp).
I received information in the mail that said in part:
Sibley Castle is a two story structure which was built around 1908. Arizona Historical Society files note that the home once contained 20 rooms and polished oak floors. E. Roy Sibley (I presume he was the builder) was the manager of the Copper Creek Mine and his wife, Belle, was the postmaster. The Sibleys left around 1910 and the castle was vacated around 1922.
http://www.ghosttowns.com/states/az/coppercreek.html Click here to visit a web site with more information about Copper Creek.
To return to this page, click on the BACK button.
Back to "Castles of the United States"

Information courtsey of Randy Kingsley.
Photo courtsey of John and Angela Marsh