UNKNOWN CASTLE ??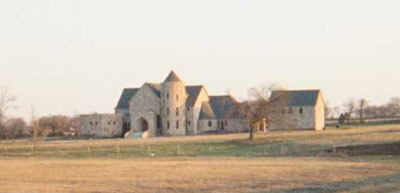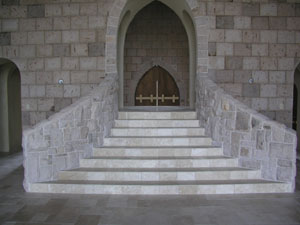 I received E-Mail that said:
Wondering about a castle Located North of Frisco, Texas. on Hwy 1461? Do You know anything about this?
Later, I received E-Mail that said:
The address is 5145 FM 1461 East - about two miles east of Hwy 289 in Prosper, TX (which is the town immediately north of Frisco). The outside structure is complete, but the inside is still unfinished. It is on 20 acres of land. The castle was built in 1998 and has 9800 sq. ft of living area including the pool.
It seems the previous owner had some financial troubles and the property is now owned by the American Bank of Texas in Sherman, TX. The bank is understandably motivated to find a buyer for this unique property. Interested parties can contact the bank's real estate department at 903-893-8191. It is appraised at $1,361,123 by the county appraisal district.
It also happens to be the property next door to the Fourth Quarter Ranch which is owned by Randy White (formerly of the Dallas Cowboys)
Later, I received E-Mail that said:
The 'Unknown Castle' around the towns of Frisco/Prosper, TX, quite possibly could be the home that Deon Sanders is having built. It has been under construction for about 5 years.
Later, I received E-Mail that said:
We would like to correct certain information and send more information about this castle. I am the listing agent for this property. I listed it and sold it for the American Bank of Texas 5/29/02. The actual location is Prosper, TX which is about 7 miles north of Frisco. The castle was built in 1999, 10,450 sq.ft. under heat and air and is on 20 acres. The asking price is $2,800,000. I am attaching more pictures for your web site. Thanks, Rusty Pierce, RE/MAX Preston Point, 214-850-7809
On 5-30-08, I received e-mail that said:
Prosper is my home town & I have taken a tour of the Castle and its beautiful! It was build for a famous hocky player's daughter, he wanted to live in a castle, but he and his wife split.
It's NOT Deon Sanders house, but is nect to Randy Whites'(really nice guy!)
On 6-2-08, I received E-mail that said:
The caste in Prosper is now $3.9 million.
built in 1999 Sq. Ft. 11,757 Bedrooms:8 Bathrooms: 8.5 Garage:5 Acres :20
For more information, look here:
http://rustypierce.com/listings.asp?listing_id=1098248072&src=tellafriend
Back to "Castles of the United States"

Thanks to Paul Jacobus and Matthew Haines for sending in the photos.