PRATT'S CASTLE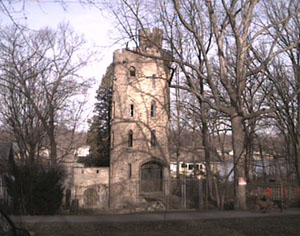 I received E-Mail that said in part:
I saw your web site and it seemed to reminded me of an article I saw in the Chicago Tribune a few months back. I did a search of the chicago tribune online archives and got a brief summary.
It at least gives you the owner and the price paid. castle is supposed to be primitive (no electricity or water) , built in the 30's if i remember the rest of that article. It has been empty for 20 years or so.
Heres the beginning of the article published on 08/23/98.
BID MAKES HIM KING OF A CASTLE
Paul Sommer didn't really intend to spend Saturday morning buying a castle. But almost faster than you could say "King Arthur and the knights of the Round Table," the Elgin resident had offered a winning bid of $167,000 to become the bemused-looking new owner of Pratt's Castle. With brokerage fees added in, his cost was $183,700. Sommer says his plans for the structure - which lacks utilities, parking, and proper zoning - remains secret.
"I don't have a whole lot to say at this time," said Paul Sommer of Elgin, who bought the medieval-looking, 61-year old castle last weekend at 1262 Cedar Ave. "I feel apprehensive saying a whole lot before the closing."
Clearly, the castle, with a drawbridge, dungeon, and escape tunnel, needs work. Permits for occupancy and zoning approval remain two hurdles for the property, which hasn't had a tenant for many years and which needs significant safety and structural changes before occupancy can be granted."
Later, I received E-Mail that said:
I also saw the castle that you talked about at 1262 Cedar Avenue. Now that one is not the same as the Castle Vianden in Fox River Grove.The castle at 1262 Cedar Avenue is in Elgin, Illinois right by the bike path which borders the river.
Later, I received E-Mail that said:
I came across your site looking for information on this particular castle. It is a real curiosity as it is virtually unknown in the area. Your site was requesting a better picture which I've taken and attached.
Later, I received E-Mail that said:
I have been riding the bicycle path from St. Charles up through Elgin for years. A few weeks ago I happened to notice (for the first time) the castle tucked away among the trees just south of I-90. A few days later I drove back up there in my car to see if I could find out any more information about the structure. I happened across a couple of women walking down the street nearby and asked them if they knew anything about it. They said that it was located on Cedar Street, and one of them said she thought it had been used as an arsenal, but neither one of them seemed to be sure of its origins.
The other day a friend of mine and I were riding our bikes up that way and decided to stop and have a longer look at the castle. A woman pulled up in a car and we asked her if she could tell us anything about the building. She said that she had owned the house next door (next lot north of Pratt's Castle) and that the owner of the castle was Paul Sommer. She also told us that she was getting ready to close on her house and that Paul Sommer was the purchaser.
I sent an email to the Elgin Historical Society to see if I could get any more information about the castle, but have not gotten a reply as yet. It is a curious structure and I am interested in learning more about it.
On 4-30-08, I received e-mail that said:
It actually isn't a castle persay but a replica of a Dutch "hold". Sources say it was built in 1937 by Harold Pratt but I was always under the impression it was built much earlier in the 30's and prior to 1933. It's possible that the endeavor was started back then and not completed until 1937 but I don't know for sure. I'm basing this on stories told by my grandparents and parents and it seems there was a connection (of sorts) between Harold Pratt and a female worker at the amusement park in Trout Park. That amusement park was destroyed by the 1933 tornado that went through the north end of Elgin felling trees in Trout Park, destroying the amusement park and also destroying the airport (Kelly Field).
As the stories go....Mr. Pratt built the structure depicting a Dutch hold and it was rumored/hinted at that he used parts/components from an actual hold he'd seen during WW1 but I've never seen anything in print that verifies those conjectures/rumors.
On 5-3-12, I received e-mail that said:
My grandfather William Harold Behrens and his best friend were the ones who built pratts castle. When they were like 18 or so, they were real young. It stayed in his friends family for years. I will research family photos and see what I can find. I used to play there when I was a little girl. The man who lived there then had a pet tiger.
On 12-8-12, I received e-mail that said:
Just saw a posting/email about the castle being built by William Harold Behrens and the owner of the castle having a pet tiger. The castle was built in 1937 and William Harold Behrens would have been (in the least) in his late 20's by then plus he was a painting contractor and not a mason. The owner (Harold S. Pratt) did not own a pet tiger. Your emailer's grandfather must have painted too many rooms with the windows closed and confused Mr. Pratt with Mr. Anderson who lived on the corner of Morton and Congdon avenues and had a pet lion named King.
I also noticed on the WIKIMAPIA site that the ownership of the castle was credited to the same Pratt that created Trout Park. This is also not true. Dr. Philemon B. Pratt created Trout Park in 1870 and died in 1872. Harold Pratt was not even a relative of Dr. Pratt.
There is an interesting twist to this. The castle does sit on land once owned by Dr. P.B. Pratt and was actually a part of Trout Park in the beginning. The trout ponds were well north of the castle site but the railroad isolated Dr. Pratt's lands and the whole strip west of the RR tracks and along the river became Trout Park. After the doctors death in 1872 his son, Dr. William A. Pratt, continued to work on the park and the cedar swamp area but also sold off portions of his inherited lands. Pratt's wife, Mary, was left 20 acres of land some of which is the land Coleman school is built on. His daughter, Eva L. (Pratt) Wiley, also was bequeathed 20 acres of land that eventually became Trout Park Subdivision (east of Rte 25) and River Bluff Subdivision (west of Rte 25). His son, William, received all of the remaining lands east of the river and in section 1 of Elgin Township.
The two doctor Pratt's (Philemon and William) ran a father & son dentistry business called "P.B. Pratt and Son" at 36 East Chicago Street in Elgin.
Back to "Castles of the United States"

Photo courtesy of Chuck Evans.