STORYBOOK ISLAND CASTLE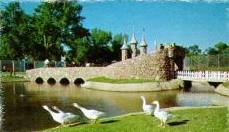 I received E-Mail that said:
The Castle that you referred to in South Dakota, Storybook Land does exist...but it's called Storybook Island. It's not really a castle, but stone and castle features that surrounds a park full of cartoon characters. I have been there many times through out my childhood, it's a wonderful place for kids because it has Whinnie the Pooh, Snow White and all the Disney characters, swings, mazes, you name it....they have it. This place is found in Rapid City, SD. It may not be a real castle to adults, but it truly is a fairy tale castle for the imagination of children........it was for me!!
Back to Home Page

Research for this page done by Phil Bilzor.