AMES CASTLE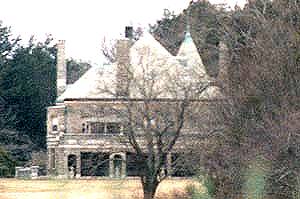 I received E-Mail that said:
This photo is of Ames Castle, the pick and shovel millionaire's house in North Easton, Mass. The place is very private, this is a telephoto shot taken from a great distance of the side of the house. The gatehouse is by H H Richardson, the father of American Romanesque.
There was a very distinct "No Tresspassing " sign posted at the open entrance, at the gorgeous gatehouse castle. This looks to be a very elaborate Norman-castle style mansion, probably worth 20 mil on today's market. The grounds covered over a hundred acres at least!
Back to Home Page

Thanks to Phil Bilzor for the photo and info.