WAPANAK CASTLE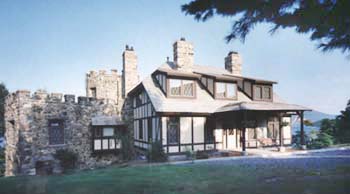 I received E-Mail that said:
I have good news about a Bolton Landing Castle you do not have listed. Wapanak, was built near Bolton Landing upon the shores of Green Island on Lake George. The fortress like structure was bulit by E. Burgess Warren of Philadelphia. Warren was a chemist and made a fortune in 1865 with the manufactory of hydrocarbons in Washington DC. . He was one of the first to refine Trindad Lake asphalt for paving purposes. A noted art collector , Mr.. Warren owned the best Barbizon Painting collection in this country. He was director of the Pennsylvania Academy Of Fine Arts for thirty eight years and died in 1917.
He was one of the millionaires who formed the Green Island Improvement Company and built the Famous Sagamore Hotel on Lake George. He was also noted in 1898 for owning the steam yacht Ellide, then considered the fastest boat of its kind in the world . This boat was moored near his Green Island summer home Wapanak which resembled a medieval castle. Wapanak is now used during the summer as lodging by employee's working at the Sagamore Hotel.
Later, I received E-Mail that said:
I visit the Lake George Area every year. The Wapanak is located on the grounds of the Sagamore Hotel on Lk. George to my understanding it is rented out. It has 6 bdrms, 6 fpl, 4 baths.
On 1-4-06, I received E-Mail that said:
There is an American castle not listed on your website. It is located at Bolton Landing on Lake George, New York. I recall it in a ruinous state as a young boy in the 1960's. It has since been restored and is available as lodging at the fully restored gem of the Adirondacks, the Sagamore Hotel.
It reminds me of Stokesay Castle, with its timber framed sections.
Goto: http://www.thesagamore.com/lodging/ for some basic views
Back to "Castles of the United States"