MEYERS CASTLE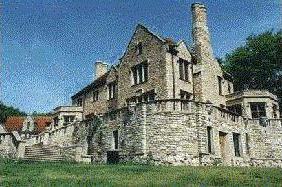 Meyers Castle is an example of Jacobethan Revival Architecture and was built between 1929 and 1931 by Joseph E. Meyer. He hired Architect Cosbey Bemard, Sr., to design for him a mansion that would copy a Scottish castle once seen by Meyer. Meyer lived in the castle until his death in 1950. His wife, Ceciiia, remained in the castle for several years after her husband's death.
The estate was sold by the survivors in 1975 to the East Dyer Development Company after the death of Mrs. Meyer. The land surrounding the estate became the Castlewood Subdivision.
Later, I received E-Mail that said:
I have some more information for you regarding Meyer Castle in Dyer, Indiana. Your site mentions that some of the acreage surrounding the castle became Castlewood Subdivision, and that is true, but there is still plenty going on in the castle itself. A couple bought it several years ago and beautified the grounds (it had been functioning as the town's haunted house before that). They had so many requests to use the site for weddings that they started renting out the castle for special occasions. I was married there in 1999, in fact. The castle is now booked during every seasonable weekend for outdoor weddings. The grounds are absolutely fabulous, as the original owner, Mr. Meyer, was a horticulturalist. I believe the castle grounds now consist of seven acres -- the rest belonging to Castlewood Subdivision. The castle itself cannot be seen from the street (or from the subdivision) because of the dense trees and foliage.
For more information contact:
Meyer's Castle
1370 Joliet St.
Dyer, IN 46311
219/865-8452 or 773/646-5613l
Visit their homepage by clicking here.
To return to this page, click on the BACK button.
Later, I received E-Mail that said:
I have even more information for you about Meyer's Castle in Dyer, Indiana. The castle is surrounded by two huge banquet canopies where wedding receptions and private events are hosted. Meyer's Castle also hosts an Argentine steakhouse restaurant called Rodizio's. The food is magnificent and I would highly recommend it. The surrounding acres include a swan pond, a magnificent garden with a pond and waterfall, and beautiful trees. The castle also has peacocks and emus that fascinate the eyes of everyone.
Back to "Castles of the United States"