DUBUQUE TOWER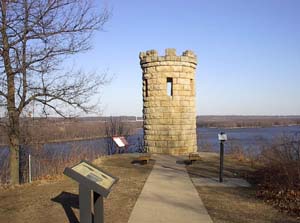 Dubuque Tower houses the grave of Julien Dubuque. He is the person after Dubuque is named. The tower was built in 1897 and overlooks the Mississippi River near the mouth of Catfish Creek.
More info here:
http://dubuque-tour.tripod.com/Julien_Dubuque_Monument.htm
To return to this page, click on the BACK button.
Back to "Castles of the United States"

Thanks to Katrina Price for finding this tower.