MCGEE CASTLE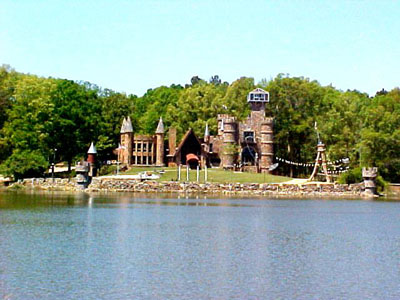 I received E-Mail that said:
I wanted to let you know that there is a castle in Raymond, Mississippi near the Hinds Community College. This year was my first time to ever visit it. Every year at Christmas they let people drive through and tour their castle. It is occupied by the McGee's. It is a beautiful castle, my first real life castle I've ever seen.
Later, I received E-Mail from the owner who said:
I would like to let you know a little more about the castle. McGee's castle transports the visitor across continents and back in time to the days of fair maidens and knights in shining armor. Dale McGee is the owner and builder of the castle in which every stone was laid by Dale McGee. The castle, begun as a modest A-frame house in the mid-1970's has evolved into a one of a kind, luxurious home filled with 18th century furnishings including an authentic replica of the Knights of the Round Table and other unique architectural elements. A museum of collectible guns, sword and Civil War memorabilia is housed on the upper floor.
The castle offers romantic bed & breakfast accommodations and caters to weddings, receptions and other special occasions such as corporate meetings and events. Special Christmas tours feature more than 100,000 twinkling lights and Santa Claus. Tour groups are welcomed for tours and catered meals.
On 1-4-07, I received this E-mail:
I am emailing to inform you that Mcgee's Castle in Raymond, Ms has closed it doors due to the death of the owner. It is up for sale for One million dollars. I was supposed to have my wedding there September 9, 2005, but Mr. Dale died shortly before then. Hope this information helps others who was thinking of having a wedding there (it was beautiful) to not get their hopes up high because it's out of business.
On 1-12-17, I received e-mail that said:
Just wanted to update you, I came across listing just now and castle is back on the market for $399,999 but looks pretty ran down.
You can find more information on the Realtor's Facebook webpage here:
https://www.facebook.com/steven.realtyinc/
Back to "Castles of the United States"

A special thanks to Cheryl for sending the photo.