LAMANCHA CASTLE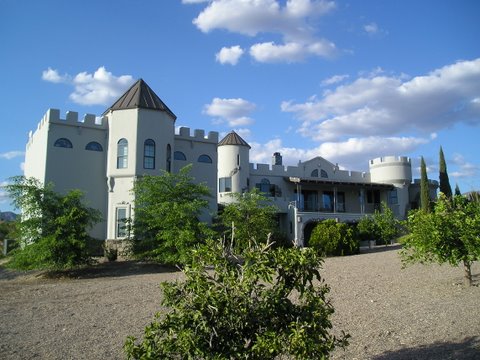 Bill and Marci Hane had the dream of living in a castle, so they built one. LaMancha Castle was began on February 14, l991 and completed in December. It was designed by Bill Hane and was built by Brady Construction of Mesa, Arizona. The Hanes are building another, much like this one but on a larger scale on the South Island of New Zealand in the next few months.
The castle is "original" right down to the full suit of armour at the entrance to the living room. His name; Arthur, of course. The castle has secret rooms, a dungeon, sky lites, and an enclosed court yard with 43 different varieties of Roses. There is also an in-door swimming pool with built in waterfall from ceiling to floor (another design by Bill Hane). The doors to the garage weigh in at 700 pounds!! These doors were made by Bill & Marci Hane, they just needed a little help in getting them up.
The interior is filled with granite, marble, and has a embossed tin ceiling in the living room between the beams, and stained and specially hand cut glass from a artist who lives in Portland, Oregon. The kitchen is done in verdi green marble & the cabinets are done in Mahogany & Oak, with insets of the hand cut glass done in Roses and hardware from Germany. The bathrooms are done in Italian tile with 24K gold inlay. The view from the balcony, living room, dining room, turret and master bedroom is that of the Colorado River and Lake Havasu. Absolutely breath taking sunsets, almost every night!
Back to "Castles of the United States"

Photo and information courtesy of Marci Hane.