FALKENSTEIN CASTLE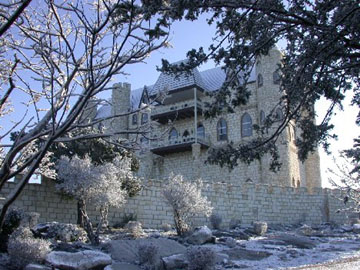 Welcome to our Castle in the Texas Hill Country! Falkenstein CastleŽ is located between Burnet and Marble Falls, Texas five miles northeast of Kingsland, Texas and one mile west of the States famous Longhorn Caverns (approximately 50 miles west of Austin, Texas). The footprint of the main grounds and buildings covers approximately four acres or 174,240 square feet. The main residence is nearly ninety feet tall. Hundreds of thousands of pounds of limestone, granite, sand, cement, rock and block, were used in the construction of Falkenstein Castle. Falkenstein Castle sits on 113 acres with a majestic 360-degree panoramic view of the Texas hill country. Beginning in February of 1996, a small but dedicated group of construction kinsmen have built Falkenstein Castle.
Falkenstein Castle is the private residence of Terry and Kim Young. The Castle Chapel and grounds are available for a limited number of weddings, charitable events, and as a motion picture and special project film site.
Falkenstein Castle Office
401 Buchanan Drive, Suite #1
Burnet, Texas 78611
Phone: 512-715-0330
Fax:512-756-1774
mark55@281.com
Visit the Falkenstein Castle website

by clicking here.
To return to this page, click on the BACK button.
---
If you like to build things, start with a small project to see how much planning and effort is involved. Start with a deck or treehouse and then move on to bigger projects. Building your own castle may be the biggest undertaking of your lifetime!
---
Back to "Castles of the United States"