UNKNOWN CASTLE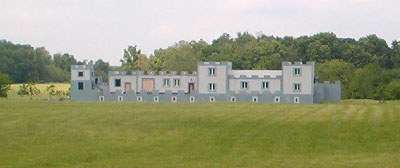 I received E-Mail that said:
I stumbled upon your site recently when the martin castle in kentucky burned down. I live in southern indiana. near Louisville, KY. and knew of the castle. anyways. Being a hoosier, I decided to browse through the indiana castles and see if the local "castle" was listed on your site, and when I found it wasn't. I decided I should go snap a pic and let you know about yet another castle.
I know very lil about this castle. I used to date a girl who lived within walking distance of it. so I saw it all the time. Even though I've never been very close, there's no tresspassing signs all around it, and I never once saw anyone outside of it or entering/leaving. Although as far as I know, a couple does live in it. just very reclusive. There are small cannons along one of the upper walls, a drawbridge on the left side, and the land slopes down in front of it so you cant see the true height. Anyways though, some of my buddies say it looks cheesy and fake. I consider it pretty neat.
Directions to it are: take highway 62 west from Jeffersonville, IN. You'll take 62 past the charlestown stoplight maybe 5 miles. and youll turn off on a road to the right called Dave Carr Rd. the castle is then maybe 1/2 down that road on the left.
Later, I received E-Mail that said:
This home is in Charlestown, Indiana although I feel certain it is beyond the city limits. The address for that area is Charlestown.
On 6-4-05, I received E-Mail that said:
I sent you an email and pics of a castle located in charlestown indiana i guess about a year ago. today there was an article in the paper about it and the owners which i figured youd enjoy reading. heres the link
http://www.courier-journal.com/apps/pbcs.dll/article?AID=/20050604/NEWS02/506040387
Back to "Castles of the United States"

Photo courtesy of Michael.