HYWET HALL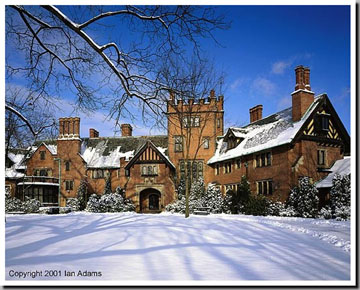 I received E-Mail that said:
I was just wondering if you knew about Stan Hywet Hall in Akron, Ohio. It was built around 1915 by rubber baron Frank Seiberling, who was the co-founder of Goodyear Tire. The manor house is exquisitely preserved as a museum, with world- class formal gardens, greenhouse, carriage house and gate house. Web site is http://www.stanhywet.org
To return to this page, click on the BACK button.
Later, I received E-Mail that said:
Hywet Castle is actually Stan Hywet Hall. Stan Hywet Hall (Old English for "Stone Quarry") It is one of my favorites in America and I tour it regularly 1 to 2 times a year. I feel the pic you have doesn't give it justice to how beautiful it is, so I have enclosed some of my favorite pics of various sizes. Do with as you please. Quite a few attributes from Stan Hywet were modeled from an old manor home called Compton Wynyates (c.1480). (http://www.conncoll.edu/ccacad/eng309/tudor/106.html).
Here is an excerpt from their website. While it is not the biggest in America - at 65,000 square feet, it sure is huge.
Stan Hywet Hall is a 65-room Tudor Revival Country House that boasts 64,500 square feet. It contains 18 bedrooms (five family, five guest and eight domestic staff plus a dormitory), 12 full bathrooms and seven additional lavatories without a tub/shower. In addition, 23 fireplaces can be found throughout the home
Back to "Castles of the United States"