TIFFANY CASTLE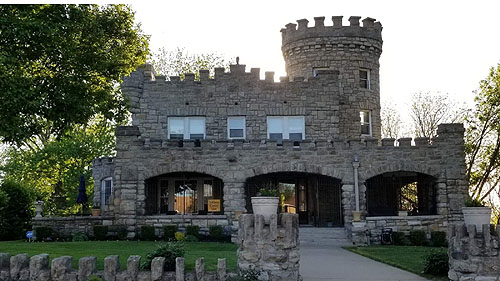 Recent Photo

Recent Photo







Scan of old postcard



I received E-Mail that said:
I told you a few weeks ago that I would so some research on the two unknown Castle's in Kansas city, MO. Here is what I have on the first Castle including photos.
Tiffany Castle
100 Garfield
Northeast area of Kansas city, Mo.

The Castle was built in 1908 by Dr. Flavel B. Tiffany, Noted Oculist and Author. The architect is Clifton B. Sloan. It sits on top of the Cliff Drive bluffs over 500 feet above the level of the Missouri river. You can see Tiffany Castle in the Fall when the leaves are off the trees if you are going south on I-35 across the Paseo bridge. The walls are made of solid stone, quarried just a few blocks away at Second and Lydia.
The floors and roof are made out of reinforced concrete. The only wood in the entire building is the finished floors and the inside finish which came from England, Canada, Cuba and the United States. The first floor contains a large living room, kitchen, reception hall, dining room and a library with stone mantel and bookcases. A conservatory opens off the living room through art glass doors and contains a fountain. A spiral staircase in a tower leads from the reception hall to the second floor and from there to the roof and another tower. There are six bedrooms on the second floor and numerous bathrooms and fireplaces through out the Castle. There is a roof garden that is large enough to seat over five hundred people and a gymnasium in the basement.
My daughter lives next door to the Castle and has been in it many many times and told be that it is in beautiful shape. One woman lives there by herself and had the Castle up for sale last Summer for two million dollars. The last time I checked the price had come down to eight hundred thousand dollars and as far as I know is still for sale. The total price Dr. Tiffany paid to have the Castle built in 1908 was thirty five thousand dollars.
On 7-17-10, I received e-mail that said:
I am still researching family history to learn more about Tiffany Castle but can provide a little information based on what my grandfather told me. My grandfather was a nephew of Flavel Tiffany and he told me about staying with his uncle. The one feature I remember him telling me about was that there was a round about in the garage so that you didn't have to back the car in or out. Our family had a copy of the post card when I was young but it may have been lost. I also know that the castle was based on what Flavel saw on his trips to Europe and his desire to recreate what he saw.
On 4-5-11. I received e-mail that said:
I saw this castle listed on your site and wanted to send an update. It's currently listed on oldhouses.com for $400,000. Quite a reduction from 2 million.
http://www.oldhouses.com/cf/displaylisting.cfm?q_listingid=7827&searchlist=6196,7827,5727&searchname=Listings%20of%20the%20Castle%20Style&searchdest=%2Fcf%2Flistinglist.cfm%3Fq_styleid%3D504%26searchname%3DListings%2Bof%2Bthe%2BCastle%2BStyle
Back to "Castles of the United States"

First photo courtesy of Cheri L. Casper
Second photo and information courtesy of Dale Castle.
Third Photo courtesy of Mark Frazier.