AGUA VERDE CASTLE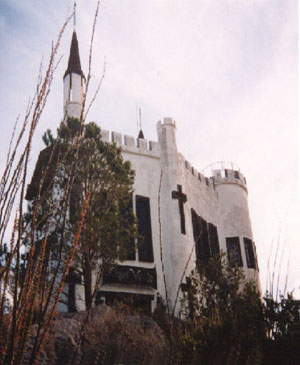 I received E-Mail that said:
I know of another Castle in Arizona, I have never been upclose but you can see it from the interstate. It is about half way between Tucson and Sierra Vista on I-10. I would love to know more about it.
Later, I received E-Mail that said:
The castle between Benson and Tucson is definitely a castle, and used to have the airforce pilots in Tucson going nuts. They would swear they saw a castle. Later it was found that there really was one out there.
Later, I received E-Mail that said:
Here is the info:
The Castle is actually in Vail, AZ. It is called Durham Castle. The owner Duane Durham built the castle. Although I have never been in it. The owner Duane Durham was my landlord and I lived right below the castle. My brother in law has been in there, and says there is a railroad track all the way around the castle with a small train on it for his young childeren, which now should be around 10 or 12 years old at least. Somewhere's inside the gate is a big stuffed bear that looks like he is about to kill you. I guess quite horrifying. From what I hear. If you were to go to Colossal Cave they have a telescope to which you can view the castle.
Later, I received E-Mail that said:
I have the TRUE info about this castle since it is my friend who lived there, her father built it. I have been in it and have pics for your website if you are interested. It's name is "Aqua Verde" which means green water- go figure. It was indeed built by Duane Durham. Laura (his daughter) is my friend. I spent Christmas eve 2000 there with Laura, her husband, her sister, and Mr. Durham and his wife. The girls are grown now and Mrs. Durham has a very impressive collection of cast Iron stoves. She is also an extraordinary decorator as Mr. Durham is as well. The entire castle has different themes throughout and is a sight to see.
Here is a photo of the castle. Anyway, the "girls " are grown women now and the train doesn't run anymore. Mr. Durham is continually adding on. It is abosolutley beautiful. Laura said that while she was in school, they used to have field trips to her "home". The swimming pool with the widows that show into the bed chambers behind it is a Fantastic Idea! Its pretty cool too seeing into the pool right next to the bed!
On 6-4-11, I received this link:
http://dynamic.azstarnet.com/gallery/index.php?view=100094
Back to "Castles of the United States"

A special thanks to Sabre Locrine for sending in the photo.