UNKNOWN CASTLE
LONG VIEW FARM ?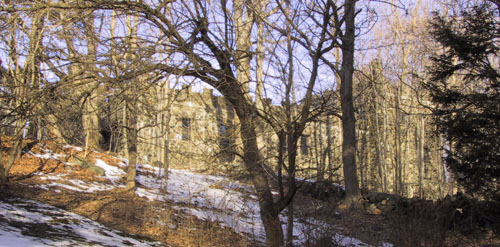 I received E-Mail that said:
My brother was visiting this weekend and noticed another castle in town. This one really fits the bill I think, more so than the one on Mt. Airy Rd E. This one is on Mt. Airy Rd. South (actually a couple of miles away from the other near Colobaugh Pond Rd) and has a tower and a hall (apparently). It's quite a nice one as viewed from the road. I don't know anything about it's history but will ask around a bit.
Here's a picture- not much for photography but you can get the idea I think.
Later, I received E-Mail that said:
Found this link which feeds the Gloria Swanson connection. It sounds like she built the castle and other buildings in the then separate town of Mt. Airy (later incorporated into Croton) in the 30s. http://www.vote.org/Croton/
On 4-11-05, I received E-Mail that said:
I have some positive info regarding the last listed "unknown castle, Croton". Our local newspaper ran an article on it yesterday because it has just gone on the market for $2.85M. The estate is called Longue Vue Farm, located on Mt. Airey Rd. The picture you have is as good as it can be without going up the actual driveway.
The mansion is French Normandy, built new in 1925 when purchased by Gloria (May Josephine) Swanson, having just married her third husband, Henri Marquis de la Falaise, an impoverished French nobleman. (She was twice divorced and had 2 kids at the time). A year later she began an affair with Joseph P. Kennedy, the marriage crumbled and she sold the place in 1927. On the estate of 25 acres, was(is) also built a 2000 sq.ft. guest house, which is the castle-building you see from the road. Kennedy supposedly used it as a speakeasy, it had a wine vault. The mansion burned in 1933 and was completely rebuilt. The current owners are selling to relocate to NYC. Houlihan & Lawrence real estate is the agent.
On 4-19-05, I received E-Mail that said:
The unknown castle was owned by Gloria Swanson. It's called Long Vue Farm. Here is the info..it's now up for sale.
Croton-on-Hudson, N.Y. $2.85 million
Yes, this 4,500-square-foot stone house once belonged to legendary actress Gloria Swanson. But don't worry — the swimming pool was only added recently, so you won't find any dead screenwriters floating around in there. The star of Sunset Boulevard purchased "Long Vue Farm," a 5-acre spread with fantastic vues — er, views — of the Hudson, while she was married to a French nobleman and hosted many celebrated guests in its four bedrooms, as well as in the adjacent guesthouse, known as "the Castle." By the way, while we're name-dropping, the Castle was built by Joseph Kennedy during Prohibition. The father of our 35th president was said to have hidden his bootleg trucks there, and it still includes a wine cellar with a massive iron safe door. Agent: Bruce Dollar, Houlihan Lawrence, (914) 271-4433, ext. 308.
On 5-23-05, I received E-Mail that said:
I think you asked for some additional info on Longue Vue Farm, the former estate of Gloria Swanson. From the one image (the rear façade of the garage) it clearly looks like a castle ;)
Listing Information: Property ID: 2504962
BR: 4
BA: 3.1
Price: $2,850,000

Click here to view this property: http://tacoma.redata.com/vp/ListingServlet?SITE=HLAWNY&ScreenID=LISTING_DETA IL_P&MLS_Number=2504962
Houlihan/Lawrence Inc
26 Maple Ave.
Armonk, NY 10504
888.454.7356
atyourservice@houlihanlawrence.com

Does anyone have more information on this?
Back to "Castles of the United States"

Photo courtesy of David Abraham.