TARRAGONA CASTLE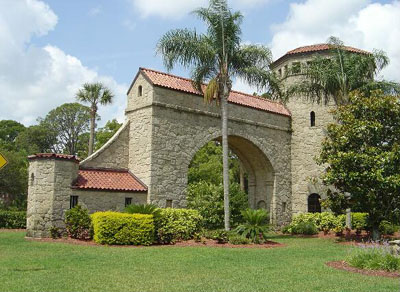 I received E-Mail that said:
I moved to Daytona Beach this past March. On international blvd, east of the speedway, there is what remains of what was once a castle. I want to get pictures, but this is a very busy street and I can't get pics from the car. Will try to get them. Maybe some of your viewers know what this used to be, the history, pics of the castle itself, etc. Also, a friend of mine said there also used to be a castle across from Sears in Daytona, which is in front of the airport. There's nothing remaining of that one at all. Perhaps someone can let us know about either or both of these castles, to which I have no idea what years they were actually here or anything. very curious. Both locations are or were on the same road.
Later, I received E-Mail that said:
The person who wrote about the Daytona castles is wrong. The towers on International Blvd are the remains of a housing developement entrance. It is being preserved at the site but does not belong to a castle, it was just an entrance. The castle by Sears was an amusement facility only built a few years ago.
Later, I received E-Mail that said:
I just found your site and was viewing the castles in various states. Under Florida you have one listed as being in Daytona near the International Speedway. I had the good fortune to spend July 4th weekend in Daytona and this "Castle" is actually the Gatehouse that was originally used to enter the subdivision (my friend has lived there since the subdivision was founded and is in her 80s) .
There were originally 2 of these gatehouses side by side. One an entrance and one an exit. The one that is left was also the real estate office for that subdivision. Some years ago it was moved to its present spot so they could add additional lanes to the highway. According to my friend, it was moved using a series of hydraulic jacks and rollers (to the best of her knowledge).
I couldn't resist a little bit of exploring, so off I went with my camera and forgot to develop them until reading this!!! The building is in need of repair, but is still remarkable. The tower is three stories high with a small winding staircase leading upstairs. I didn't climb it because the wooden floors above are collapsing. There are also a couple of very small rooms connected to the arch itself. The doors were made of wooden planks reminiscent of castle doors but are now so rotten that they are falling off their hinges. I am unsure what the stone is, but a lot of the old buildings there used "coquina" stone which is very durable and has the ability to either resist or absorb water I can't remember which. The street it is actually on is Tarragona Way.
Later, I received E-Mail that said:
Everything you have is correct, but I just wanted to add, while the building was a decorative part of a housing development, and it was lifted and moved, preserved rather than destroyed, it is a very large building. It has a very nice design, with much space inside it's compact boundary. One large round floor on the ground, with a stone or tile set floor, with something like a compass design set into the floor. This was probably a Grand Reception room for potential home buyers. This ground floor has the unique feature of not being connected by stairs to the rooms above, an advantage from a security perspective, where the nice room is open to the public, but the other rooms a very private and much more secure.
The ground floor has the big front wood doors. Then, around the other side of the building, stairs, made the same as the walls, lead up the outside of the building to another door, this door is exposed and high up the side of the wall. There is no room for people to gather outside this door. Inside this door is floor two, probably the offices, etc. and off to one side is an open doorway, leading up a few steps and revealing a long rectangular room, under which is the archway that is the entrance to the community. The far end of this room is supported by another tower like base extending down to the ground, so between it and the main round tower is an archway space that you can drive a car under.
Back in the Main round tower, and a door to one side of the second floor leads to a narrow stairs that opens onto a third floor with large evenly spaced windows in all directions, sort of a Master Suite. Walking around the room, another door will lead up curved stairs to a covered opening that steps down onto a fourth floor, roof, open air patio area. This has the usual square turret style openings, so it is both private and with a view.
On 6-26-05, I received E-Mail that said:
I remember as a child going to visit my grandparents and upon seeing the archway I knew we were close to their house. My grandfather, who is now dead, has several pictures of when they moved the arch. They dug underneath it and installed rollers and all that and moved it inch by inch, and now you can no longer drive underneath it (which leads into the neighborhood).
It's constantly under repair and if I remember correctly its all boarded up and the inside is not accessable. And if you get a chance to see it during Christmas time, it's very nicely and elegantly decorated with Christmas lights.
On 4-25-09, I received e-mail that said:
I went to Daytona FL in May of 2007 - I saw the "Tarragona castle", I wasn't sure what it was... it looked fairly authentic [with some modern updates] but I suspected it was what it turns out to be, just an entrance to the subdivision that's behind it... regardless, I was impressed with the detail... I was able to pull over, get out and walk around it and take a bunch of pictures... it appeared to be in good shape, the windows appeared to be new-ish and the doors were weather beaten but solid... seems some restoration has been done since some of your earlier email info...
Back to "Castles of the United States"

Photo courtesy of Paul S.