UNKNOWN CASTLE ??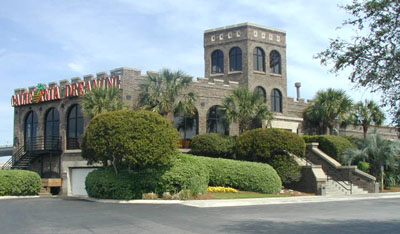 I received E-Mail that said:
In Charleston there is a California Dreamin Restaurant that is in a castle.
Later, I received E-Mail that said:
I saw where you had an email from someone saying that the restaurant "California Dreaming" was a castle. Indeed it is not, this is the standard structure of all California Dreaming restaurants. I do not believe there are any "castles" per say in South Carolina, plantations but not castles.
Later, I received E-Mail that said:
I reside in Charleston, SC and California Dreaming is a very popular restaurant and bar. It actually has sister restaurants in Columbia, SC (built in the old train depot downtown just below the capitol) and another in Greenville, SC which looks similar to Charleston's in a somewhat medieval appearing structure. I believe the Charleston location was patterned to look similar to old Fort Sumter. It is located on the waterfront across from the historical Battery. The city is known for keeping the Civil War memory alive in a gentile sort of way.
There is a very tiny island in our harbor called Castle Pinckney that apparently was inhabited by my ex-husband's Grandfather. Remnants of a brick structure are still evident but not even close to being considered a "castle" that I know of. I hope this clears the matter a little. If you do visit the area, you must try the California Dreaming house salad. It is very unique and one of their signature items. My question is why they named the restaurant "California" Dreaming. Go figure!
Later, I received a photo and this:
I haven't been in Charleston for 7 years - don't know if they have any more in that area. This one is on the Ashley River (west) in Charleston SC and right across from the Charleston Marina. There has been a new bridge installed right next to the restaurant since I moved from Charleston. I asked my sister-in-law to send me the photo since she just bought a new digital camera. I saw, at your web site, where you wanted the picture so I gave her an assignment to help you out and to refresh my memory.
Later, I received E-Mail that said:
The building which is now California Dreaming use to be a train station.
After seeing a photo of the place, while I agree that it has some castle attributes, I don't think I view it as a real castle. I will leave it on the webpage for a while anyway.
Back to "Castles of the United States"

Thanks to Scott Gray for sending in the photo.