LAYTON CASTLE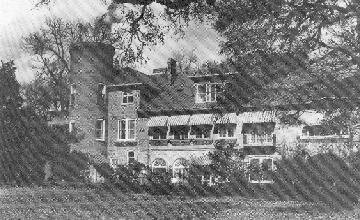 I received E-Mail that said:
Our castle in northern Louisiana is Layton Castle built in 1814, my brother and sister in law were married there. It is on the National Register of Historic places and is interesting. I thought you might want information about it. The castle is open for group tours by appointment only. The address is 1133 S.Grand St., Monroe, La. The phone number is (318) 322-4869, or (318) 325-1952. Sorry I don't have a picture.
Later, I received E-Mail that said:
I just discovered your website and reference to Layton Castle. I visited this castle on Saturday while I was looking for a wedding location for my daughter. It is owned by a wonderful Southern lady, Mrs. Parsons, who resides at the castle.
Later, I received E-Mail that said:
Layton Castle, once known as Mulberry Grove, is truly one the fantastic showplaces of Northeast Louisiana. This spacious home, consisting of sixty rooms located on 7 acres of flatland that fronts the Ouachita River, was constructed in 1812-14 by Judge Henry Bry and his wife Marie. In 1910, the home was given the look of a European Chateau. This was achieved through the use of tall, round turrets at either end of the building. A most unusual feature is the two-story carriage port with it's round brick column and tall arches. The home is surrounded by huge live oaks and beautiful gardens.Much of the interior is original to 1814. The castle is listed in the National Register of Historic Places.
The above information, including photograph, was taken directly from Ken Purcell's Book, "A Pictorial History of Monroe, Louisiana", written in 1983 and published by Nostalgia Photos of Ouachita, Inc and from Lee Malone and Paul Malone (1986). "Louisiana Plantation Homes: A return to splendor" and was published by Pelican Publishing Company.
The home was actually divided up into apartments, and I was extremely fortunate to live there for over five years prior to moving to Atlanta to complete graduate studies. Carol Layton Parson, the current owner, apparently now resides on the property. I have also attached a photograph of Layton Castle. Photographs really do not do the home justice.
Back to Home Page

Photo sent in by Larry W. Thornberg.