ANAM CARA CASTLE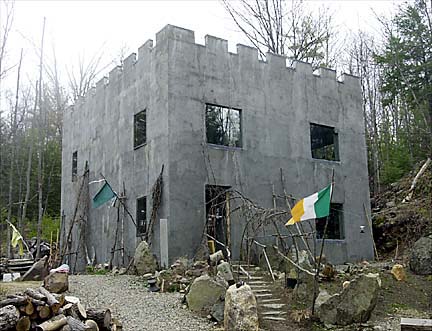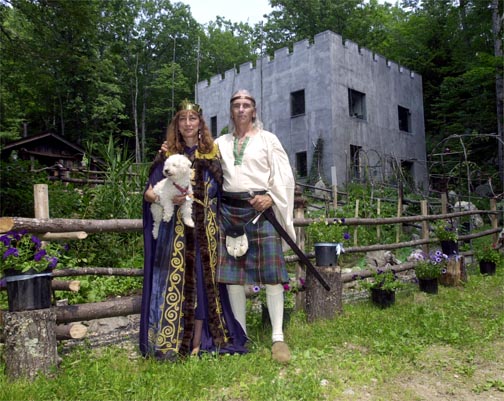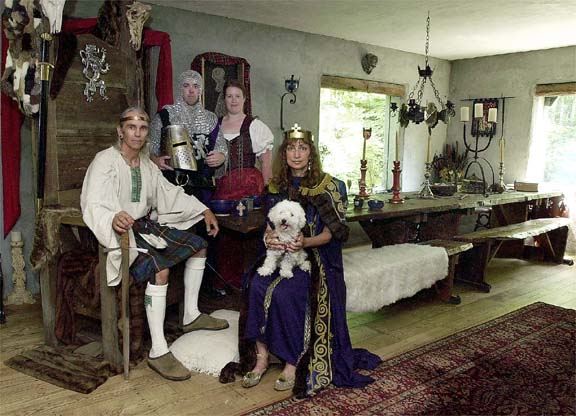 Shown standing behind David and Loretta at the upstairs banquet table are First Knight of the Castle Sir Corbenic (Mark Bolton) and Lady in Waiting Lady Keswick (Kristin Caswell).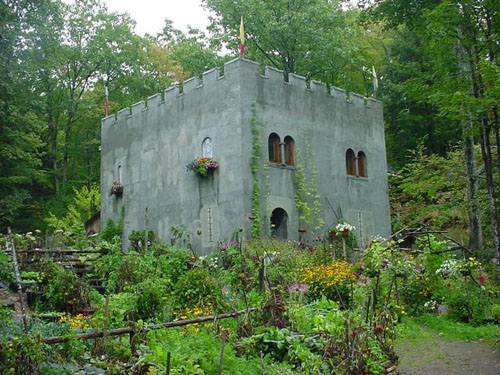 This photo was taken after some changes were made to make the windows more attractive and secure.
I received E-Mail from the owner that said:
Built on eight rocky, wooded acres in Barrington, New Hampshire Castle Anam Cara is a constantly evolving labor of love to replicate a 10th century Celtic castle keep Started in 1996, all design and construction was performed by David O'Connor and Loretta Salazar, owners and occupants of this private home. Using many Swedish building techniques and products and no mechanized lifting, the structural shell is a super insulated concrete block product with 1/2 inch vertical rebar tied into a rebar and concrete bond beam between the first and second floors. There is a second structural bond beam above the second floor windows. A fully insulated free floating 6" concrete slab floor acts as a very effective thermal regulator in both summer and winter. Passive radon mitigation, mechanical ventilation, air gasketed R-80 ceiling, low e argon glass, unbroken R-25 walls and an ultra efficient propane back-up furnace make the structural shell extremely energy efficient and comfortable. Heated by wood, using a non-electrified gas stove in the hidden kitchen area, lit primarily by candles and utilizing a drilled well with a back-up hand pump Castle Anam Cara can barely sense when electric ties to the modern world are severed by mother nature.
The living space is completely done in 10 th century detailing, from 300 year old lumber and beams to floors of native ash cut on a friend's land and milled in one of the last surviving local saw mills. All interior iron hardware was produced by David in the Castle blacksmith shop also built by the owners.
Castle Anam Cara was built to be a reflection of the shared philosophies and outlook on life that David and Loretta hold as unswerving guidelines in their day to day existence. Independence, simplicity, personal responsibility, the interconnection of all life, the continual quest for greater understanding of self and the commitment to stand up for the principles they believe in. The Castle is a place that welcomes all people as equals. David is a noted gold and silversmith, medieval blacksmith and potter. The in Castle studios are always busy and area artists are frequently within the walls. Loretta is a medieval seamstress as well as a Justice of the Peace. The two combined with the fact that David is also a bagpiper make for some beautiful, intimate medieval weddings inside the walls of Castle Anam Cara.
Children from schools, scout groups, special education programs, as well as adults from the community enjoy "day in the life of a castle" tours. In addition to the Castle and freestanding blacksmith shop they enjoy storytelling in the Celtic sweatlodge and walking the nearly 3/5 of a mile of trails on the Castle grounds. Summer mornings are enjoyed viewing the morning glories and roses climbing up the walls of the castle and picking bowls of fresh vegetables from the gardens.
When he is not overseeing the affairs of the Castle and smithing in the shops David can be seen performing at regional medieval and Renaissance Faires as Duncan of Doh Naught, Scottish juggler and rope walker.
Planned future work includes accenting stonework to the exterior and interior walls (already in progress), monolithic stone placements, hand forged standard brackets and cressets, additional interior iron work and trunks, more gardens, a tower (?), treehouse complex, gypsy encampment, combat training ring and axe throwing range.
---
For more information on Castle Anam Cara or the owners and their lifestyle, you can visit their website here:
http://castleanamcara.com/

or you can contact them by E-Mail at:
castleanamcara@surfglobal.net.
---
Back to "Castles of the United States"

A very special thanks to David O'Connor and Loretta Salazar for the photos and information on this page.