BREITENBACH CASTLE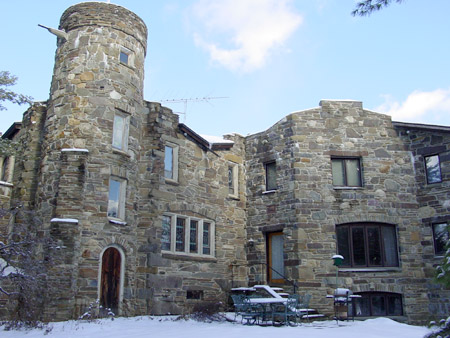 This is taken from the Breitenbach Castle Website:
Beginning in 1975 and continuing for 20 years, T. E. Breitenbach spent four months out of each summer building his castle home & studio. The stone was quarried on the property. Oak trees were cut from the woods for cabinetry and moldings. Collapsing barns were used for their hand-hewn beams and planking. The artist made stained-glass windows, wrought iron hardware, custom floor tiles, furnishings, and more. Construction continues today, though now for only two months each summer. The artist says he enjoys the hard physical work after sitting around all winter "moving three fingers" at the easel. The artist intends for his castle to be a future museum to house his artwork.
More info and photos here:
www.tebreitenbach.com/castle/index.htm

And more here:
http://tebreitenbach.com/rentourcastle/photos.htm
To return to this page, click on the BACK button.
Back to "Castles of the United States"