WHITBY CASTLE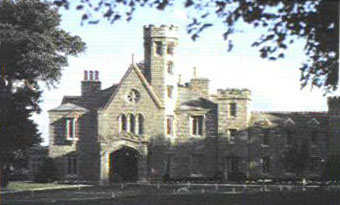 I received E-Mail that said:
This is a castle I located for my wedding. It is called Whitby Castle and was designed in 1852 by Alexander Jackson Davis. It has a resturant and banquet facilities. It was once a private residence, but now this restored gated tudor castle is a historic landmark. It overlooks Long Island Sound in Rye, Ny. The address is 330 Boston Post Road, Rye New York 10580. I have enclosed two pictures of the castle.
Later, I received E-Mail that said:
I just visited the castle today and found out that it was originally the home of William P. Chapman and was named Whitby after Whitby Abbey in England because some of the original stones from the Abbey are now encased in the walls of the castle. In 1896 it was sold to the Park family who in 1921 sold it to the City of Rye who combined it with Allen estate and it became Rye country club. It is very beautiful and has a chapel built upstairs which has a unique stained glass window.
Later, I received E-Mail that said:
During an extensive search for wedding locations I came across your site. First I would like to thank you for the wealth of information you have on castles, it has helped a great deal! I have done some investigating on my own to find more info on Whitby Castle for my own wedding and found the following on a Rye, NY website http://www.rye.americantowns.com
"In 1853, the Whitby Castle was built for the William Chapman family as a private residence. The construction of this facility contains stones from the original Whitby Abbey in England and thus the family chose "Whitby" as the title of this estate. The architect was the prominent Alexander Jackson Davis who also designed the Lyndhurst Mansion in Tarrytown.
In 1896, the Chapmans sold the house to the Park family of Rye who then lived there for 25 years. In 1921, the 40 acres of the original property were combined with the 110 acres of the adjoining Allen Estate and the land and the house then became the Rye Country Club. It was renamed the Rye Woods Club and in 1965 it became the Rye Golf Club.
As a restaurant and catering facility, the new design includes an a al carte restaurant and a ballroom with a 250-person capacity. The new addition was built and designed to match the original gothic tudor style.
The City of Rye owes this historic landmark while the Restaurant Associates operates and manages the restaurant and catering. The restaurant is not exclusive to the Golf Club members and is open to the public for dining. The catering facility is available for private events."
Back to Home Page

A special thanks to Trisha Natowski for sending the photo and information.