STRONGHOLD CASTLE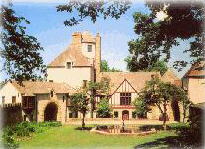 I received E-Mail that said:
Stronghold Castle is a replica of another castle in England and is currently owned by the Presbyterian Church. Almost 30 years ago I went there with a youth group from Rockford IL for a weekend. The castle is complete with secret passages, hidden rooms, Great Halls, tapestries, and looks beautiful on its side off of IL Rte 2 by the scenic Rock River. It is high on a hill and has many acres of wooded land with it.
Stronghold holds confences and seminars and is open to the public for tours during the Fall season in conjunction with a craft fair held in Oregon IL.
Later, I received more E-Mail that said:
Stronghold was built by William Strong who was a big whig with the Chicago Trib in the 1920s. It is based on several French castles (not English). I grew up in the area and have visited Stronghold countless times over the years. My family toured the property in the 60s when the Presbytery was considering taking it over. It was an incredible property, but has suffered at the hands of the young people who use it in summer. Years ago there was a chess set, I recall, which had hand carved pieces. I remember that three of the pawns were the three stooges! Mr. Strong hired an Artist to go to the Louvre in Paris and copy a Botticelli which hung there because a woman in the picture resembled Mrs. Strong. I can remember that painting hanging outside of the Great Hall. Some years ago it was taken down because someone had slashed it with a knife. Several of the tables were museum pieces and the furniture in the great hall was made by the inmates of the Illinois state prison.
Stronghold has an wonderful hidden chapel behind the walls of the library, and a tower nursery for the children. The nursery is two stories tall and has painted walls which show the story of Rumplestiltskin as you go up the stairs. The gardens are overgrown and amazing, and in the spring the woods are awash with jonquils and daffodils which have multiplied over the years and make the paths around the castle seem like a fairy land. The Castle sits on 400+ acres of land and is across the river from Louden Park with its stately statue of Chief Blackhawk as well as some others hidden in the woods (visit the coffin and its six pallbearers on a grey, rainy day...it sends chills down your spine).
Stronghold is open to the public every fall (October, if I recall) during the Oregon Fall Festival. There are usually a number of craftspeople on the grounds (blacksmith, applebutter, pottery, etc.) and the house allows tours. The castle used to open for groups to tour at other times of the year, if you called ahead, but I don't know if they do that anymore. They are listed in the phone book in Oregon or Byron, Illinois. The property is worth a visit, especially in late September or Early October when the trees along the river look like they are on fire. You have never seen anything so lovely! I suggest you call the castle first in case any rules have changed over the years since I was last there.
Then I received E-Mail that said:
Stronghold Castle was built and owned by William Stronghold, publisher of the Chicago Tribune....It took him 9 months to build his heaven on earth....he did it with little help from others, it was one of his dreams to have a castle.....he used mostly pine to build it so as beautiful as it is....it was cheap. After he was finished building it him and his family moved there......William lived there for only 2 years before he died!!!!!.....His wife lived there for 22 years until all the kids moved out then she then moved......
Today it is owned by The Presbyterian church, who use it for retreats and rent it out for other things, and there is noticable wear from kids being around it all the time!!!
Later, I received E-Mail that said:
I am originally from Beloit, Wi. (north of Rockford) and have seen the Stronghold Castle many times. Never have been in it. I went into their web site and see it was built by a Walter Strong (you called him Wm.) who had the Chicago newspaper. I went to school with kids named Strong and their father was Walter Strong who was the editor of the Beloit Daily News back then. Wondering if he might have been one of the sons of the builder....any idea?
Later, I received E-Mail that said:
My grandparents were the original caretaker and cook for this castle during the 60's and 70's. They lived in a small house nearby, and my family used to celebrate Christmas at the castle. This is the actual history of the castle from their website:
In 1925, Walter Strong became publisher and editor of the Chicago Daily News. He and his family soon began vacationing in the area around Oregon, Illinois. Inspired by European castles they had visited, and by San Simeon, the California estate of Strong's publishing colleague, William Randolph Hearst, Walter and Josephine Strong decided to build a castle of their own as a summer retreat for their family, children (Walter Jr., Jonathan, Robert, Ann, and David) and a place of entertainment for their many friends.
During 1928 the Strong's acquired an initial three hundred acres, built a road into the property and developed a stone quarry near the road's entrance. This quarry would furnish much of the stone used in the Castle's construction.
Most of the Castle construction, including pool and tennis court, was done in 1929 and 1930. Josephine Strong's brother, Maurice Webster, was the Castle architect. The builders came from Chicago but employed a number of local laborers. Built on solid rock and designed for possible expansion, the completed Castle and its Carriage House wing contained twenty-five rooms, including sixteen bedrooms, nine baths, eight fireplaces, four secret passages, and a "Great Hall" which was 35' wide, 55' long and 34' high. The five story Castle tower commands a magnificent overlook of the Rock River and surrounding areas.
Tragedy struck in 1931 when Walter Strong suffered a fatal heart attack. The family continued to use the property until Josephine Strong died in 1961. Reluctantly, the Strong children decided to sell Stronghold, and sought a buyer who would continue to use and develop the property for purposes of retreat and renewal.
Presbyterian Involvement
By 1962, the Presbyterian Camping Association of Northern Illinois needed a large, centrally located site to accommodate a growing, diversified program of outdoor camping, retreats and conferences. After thorough search and study, PCANI chose Stronghold and, in December 1962, PCANI contracted to purchase the property. During the following April and May, some six thousand five hundred people visited Stronghold in an open-house program.
In 1974, the four former Presbyteries of PCANI, having undergone restructuring into the Presbyteries of Blackhawk and Great Rivers, formed a new alliance called the Bi-Presbytery Agency of Camps and Conferences (BIPAC). The agency's mission was to develop camp and conference centers at Rock Creek Retreat, Stronghold, and Woods Camp (East Bay). Although well-intentioned, the agency proved awkward and, in 1976, BIPAC was dissolved. Stronghold's ownership was deeded to the Trustees of the Presbytery of Blackhawk, under whose ownership it remains today.
Stronghold is currently a four season conference, retreat and camping center. The Center's 360 acres of woodlands and meadows overlook the Rock River. Facilities include seven retreat houses which accommodate between 10 and 36 people in each site, wilderness cabins, a camping area, and dining/meeting rooms. Challenge Courses are available to overnight guests and for day use with trained staff supervision. The International Gift Shop, a mission of Stronghold, sells handmade gift items and clothing. Proceeds help artisans in developing countries build a life with dignity. The Trading Post sells sweatshirts, postcards, and other items to remind visitors of Stronghold.
In addition to staff generated programs, Stronghold is the site for family reunions, seminars, meetings, banquets, school tours, and more. Special events include Stronghold Presents . . ., an eclectic music series, and the Annual Benefit Concert, held in the Castle Thanksgiving Weekend. The largest special event is the Olde English Banquet and Faire, a Renaissance festival held in October.
Stronghold is once again changing to meet the needs of its owners and constituents. Heritage Lodge, a new adult housing facility, including sixteen bedrooms with private baths and a large meeting room, opened in 2000. A new office wing will be added to Brubaker Center. The Center will be renovated and an area added to welcome guests, house the International Gift Shop, and the Presbytery Resource Center. See you soon at Stronghold!
Back to "Castles of the United States"