FREDERICK FAULKNER CASTLE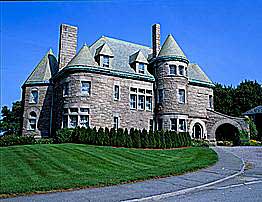 I received E-Mail that said:
The Frederick Faulkner Castle sits atop a hill in an historic neighborhood in Lowell, Massachusetts. With marvelous vistas to the north, it is surrounded by a neighborhood of mansions all listed on the National Historic Register. The style of the house is Richardsonian Romanesque. H.H. Richardson was known as the Frank Lloyd Wright of the Victorian era. The house is built of pink granite, quarried on Deere Isle, off the coast of Maine. The granite was barged down the Merrimack River, then taken by ox cart up to the crest of the hill where each two foot thick block was hand fitted by stone craftsmen. This home took six years to build.
Inlaid colored stones adorn the front entrance, carved stone details are found around the turrets. Original fixtures include bronze wall sconces, carved and gilded dining room chandelier and matching sconces. 8 bedrooms, 4.5 bathrooms, a ballroom, finished walkout basement with laundry room, full kitchen, multiple pantries.
The house has an open concept floor plan. Enter through the portal, then through the vestibule and into the expansive grand foyer with original oak paneling and coffered ceiling. First floor has a half bath with original marble sinks with ball and claw foot legs, a library with built-in bookshelves and original glass doors and a fireplace, dining room with fireplace, kitchen with pink granite countertops, living room with fireplace, family room with fireplace and a circular terrace with sweeping views to the north.
The second floor has five bedrooms (including two master suites with fireplaces). There are three full baths on the second floor and a shower.
The third floor has a 900 sq. ft. ballroom and three bedrooms with one full bathroom. The rooms in the house are spacious and most have curved walls as they are built into either the round turrets or the octagonal turrets.
Later, I received E-Mail that said:
I see you have some text on this, but I recently saw pictures on the following website: http://www.historicproperties.com/detail.asp?detail_key=Nelow001
Quite a few nice pictures.
on 4-19-05, I received E-Mail that said:
This home is on the market. I've had my eye on it for quite some time and last year is was in the million dollar range then shot up to $2.2mil. Go to Realtor.com and look up the MLS# 70163647, or click here: http://realestate.aol.realtor.com/FindHome/HomeListings.asp?frm=bymlsid&lid=70163647&x=15&y=3&gate=aolrealestate&source=a2ankt1t1074&poe=realtor
On 9-14-10, I received e-mail that said:
I was looking for info on the Faulkner Castle in Lowell and stumbled upon your site. The castle is currently for sale. (My children would love for our family to buy it, but the cost is probitive for us.) We drive by it daily.
http://www.realtor.com/realestateandhomes-detail/Lowell_MA_01852_1121406878
There are lots of pictures listed, etc.
Back to "Castles of the United States"