UNKNOWN CASTLE ??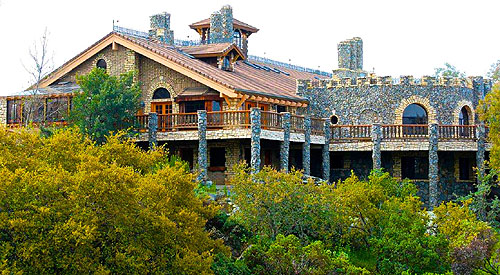 I received E-Mail that said:
Do you know about the castle in San Diego, CA? It is located in a city of San Diego, Alpine. It is located off of Tavern Road then onto Marshall up the hill and there it is. It is so beautiful. A little old man and his wife own it. Supposedly he hand picked every rock that the castle is built out of. It also has secret passage ways that are in the walls. It's like playing Clue.
Later, I received E-Mail that said:
Went hunting for a couple of the castles listed in the San Diego area and found nor hide nor hair of them. The one in Alpine, CA is said to lie off Tavern Road on a street named Marshall, but there is no street by that name.
Later, I received E-Mail that said:
Where the writer says that the street *Marshall* does not exist. That street did exist in the past, my sister's husband lived on it. If I recall correctly, it cuts off behind that (newer) shopping center off of Tavern Road.
Later, I received E-Mail that said:
I lived in Alpine (east San Diego) for 17 years, and today I went to see the Castle in Alpine. I had seen it before but wanted to get the streets for you correct. To get to the castle, take the Marshall Street off Alpine Blvd. go up to Etinge Street, turn right to Etinge Way, there is the Castle. Marshall street is next to the Alpine Inn right in the middle of town (very small town)...I was there today without my camera, but will take a picture soon.
Later, I received E-Mail that said:
Here are a couple of pictures of the castle in Alpine We went out there this past weekend its a great custom home.
On 2-27-08, I received e-mail that said:
The town of Alpine named this custom home built in 1983 as " The Alpine Castle". This home was built by John Pottenger a proud scandinavian Master Stonemason. John is hardly a little old man he is in his early sixties. The e-mail you must have received is cute the individual was either very young or she/he must have spoke to the caretaker whom at the time approx. seven years ago was in his nineties.
This custom home is nestled among the hills of Alpine yet it is in the center of town. The estate boasts only the finest of rare stone and opulent woods from around the world. The detail and craftsmanship are awe-inspiring. When you enter the property, one is greeted by a private and small lake with a majestic fountain fed by the properties own well. The home has four bedrooms, ten bathrooms, ten fireplaces, a sports court, eight car garage and a quest house. Its approx. 20,000 sq ft this includes the guest house. Every night you can enjoy the views sitting on the wrap around deck that is 4200 sq ft. and every morning when the clouds have moved in under the deck it feels like your sitting on a cloud while you sip your morning coffee or hot chocolate.
Many people still think that this home is rented out for weddings at this time it is not. When it sold seven years ago it became a personal residence. So when you're in town and want to pass by please do not stop your vehicle on Eltinge Street heading southeast or Eltinge Place to take a picture the streets are too small. No one minds pictures being taken but the car accidents we do. Park on Miss Elle please.
Directions are: 8 east to Tavern Rd exit, Rt onto Tavern Rd, (first light is Alpine Blvd) Lt onto Alpine Blvd, Rt onto Marshall (you will see Alpine Inn) Lt onto Eltinge Street after you go over three speedbumps it is on your right it sits at the end of Eltinge Place. Miss Elle is on your left. While your in town eat at your family restaurant Al Ponchos Mexican or Alpine Inn or go to Viejas Casino have a safe and fun time while visiting the area.
On 4-23-08, I received e-mail that said:
Let me clear up some info for you. A very close friend on mine and his parents bought the castle about 6 years ago. I will give you the specs on the house as most of your information is wrong.
The Castle is 16,000 sq. ft., it has 3 bedrooms, 2 kitchens, 2 lofts, 5 baths, 6 fireplaces, 2 water falls, a huge bar with stone floors and oak ceilings. It also has a theater room and a bank sized vault. I can say there is NO drywall in this house. It is either stone or wood. No joke. Also, it only has a 3 car garage not 8! There is a guest house with 1 bed 1 3/4 bath and 3 car garage. The pond out front is 1.5 million gallons. The owners have installed an electric gate and now have dogs because people would drive onto the property and ask to come inside. It will soon be on the market for close to $10 mill.
On 1-30-09, I received E-mail that said:
The owners names are Ed and Beverley. The address is 2808 Eltinge Place. Most of your later info is correct the size is 18,000 square feet. It is a private residence and although very beautiful from the street it is still their home.
On 3-30-12, I received an e-mail with a new photo of the castle. See above.
On 6-11-12, I received e-mail that said:
I am a little confused on where you gained your information on John's castle. I was raised in Alpine and watched the castle go up little by little till it was finally ready to be shown. John is not a fragile old man but rather a man that was always running around enjoying life and definitely the ladies. John did not choose rock by rock although he does own a quarry. We enjoyed many parties there with john though he had always said it was not going to be his final castle he was going to build one more and said (hopefully jokingly) that it would be the one he would be buried in.
The castle has a torture chamber and the maids quarters are done using the earth from where they grew. Lean against a wall you are not familiar with and you could fall in. The only real way to understand and respect Pottinger is to know him and the castle. He is a very generous sweet man.
On 12-19-13, I received e-mail that said:
I was searching for pictures on Google of John Pottinger's Castle in Alpine and came across your site of e-mail threads regarding this castle. My dad who is a master mason, Bill Bodenstadt, along with his brother Joe and John Pottinger built this castle for 13 years! John and Joe were best friends. In fact, when John sold his "retirement castle" as he often called it (when it was time to sell, he could then retire), he moved in with my uncle Joe. Both of them were bachelors in Alpine. Your information was correct about the details, but it was lacking some COOL details!
Inside, there is a hidden rotating door that looks like a bookcase that opens into the smaller kitchen, very much like a movie. On the central wall that divides the round living room and "ballroom," there is a waterfall in the living room that runs down the whole wall, but on the other side is a MASSIVE fireplace. In between those two masterpieces, is a secret room that is the "brain of the house." It has all of the wiring for sound systems and alarms. There is a wine cellar down below that holds thousands of bottles of wine. What is special about this wine cellar, is that the bar is located inside that is trimmed with hand carved wood tiles (probably about 18"x18") that tell the picture story of how to make wine the old fashioned way." What is even more spectacular, is that there is a MASSIVE granite slab that was brought in by a crane when the foundation was being laid for the house, that became the wine-tasting gathering table (I would guesstimate that about 12 people could sit around it). The cellar was then build around it.
There is also a bridge that connects the two upper lofts that overlooks the living room. In one of the lofts there is a secret stone passageway/tunnel that eventually leads to downstairs, and it is complete with spy holes that over looks the living room below. ;) In one of the lower bedrooms, the other waterfall is actually the shower. AWESOME! That particular bedroom was built around 2 large boulders that has a walkway that goes in between them into the lower part of the room. John had a large circular bed in that room. In the lower part of the castle, there is a train room. Part of the earth is exposed (a very large dirt mound and smaller boulders) that had the intention of it becoming any train enthusiast's master display.
In the master bedroom, there is a smaller loft that is a library. John also HAND crafted the queen-sized bed that is a 4-poster bed, made from Zebra Wood that was from Africa. He had someone custom make dark green velvet curtains for the bed. It was stunning! Of course there was another gorgeous stone fireplace in there. It was also trimmed with authentic and fun artifacts that John would collect i.e. a Norseman's helmet and an antique oil can from the original B&O Railroad. In one of the bathrooms there is a ridiculously large spa tub that 4 people could fit in! The view from the tub overlooks the valley. There is also a functional widows walk on the top.
Oh, and that man-made lake was stocked with fish so John could go out there under his "fishing hut" and catch some bass from time to time. The amazing thing about John Pottinger, is that his castle is so extravagant, but he is the sweetest most humble man that looks like Santa Claus and drove an old beat up Chevy truck. He is a mountain man and hangs out at Alpine Tavern. When meeting him, you would never know he is such a master craftsman that has tremendous vision and forethought, to design a unique and gorgeous castle.
Back to "Castles of the United States"

A special thanks to David Lang for sending the photo.