LARALYN CASTLE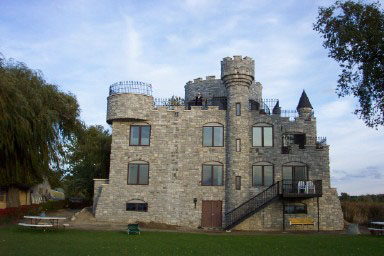 I received E-Mail that said:
My husband and I were raised in Northern Indiana. About 4 years ago, a couple started building a castle on Snow Lake, it is North of Angola Indiana, the man was an electrician as I recall, anyway the local Newspaper "the Herald Republican" did several stories on this castle. It should be fully completed by now.
Later, I received E-Mail from Katrina Price that said:
Here are all the details on the UNK in Angola, IN. from www.kpcnews.com (Herald Republican).
Sunday, July 20, 2003
Castle sweet castle
BY JAMIE LEMKE-BARRAND jamiel@kpcnews.net
SNOW LAKE — At last, Larry and Lyn Gunkel's home truly is their castle.
After years of botched work, starts and stops and legal red tape that resulted in their being evicted, the couple is cozily and legally ensconced in their home — a 3,400 square foot, three-story replica of a medieval castle located at 420 Lane 840, Snow Lake. They christened their home "Laralyn Castle."
"What a feeling," said Lyn, a wide smile lighting up her face. "This is permanent. See? We have the permanent occupancy permit. I'm going to blow it up and frame it. I don't know where I'm going to put it, though ... maybe on the front door."
The Gunkels were granted several extensions to a temporary occupancy permit issued by the Steuben County Commissioners in January 2001. The last ran out on June 20, and commissioners refused to extend it again.
The Gunkels began building their home on March 17, 1999. When they moved in in January 2001, the home was not finished. The home, in addition to not meeting health and safety codes while it was under construction, was swaddled in green house wrap throughout most of the construction phase. Commissioner Rod Wells called the house "a big, green monster." But that "monster" is now a regal castle, covered in stone from its foundation and all the way up its 44-foot height to the tops of the turrets.
"Everything's done except the landscaping and the stone washing," Lyn said brightly. Larry, who calls the castle his "retirement project," is busily preparing to carpet the home's many stone decks. "They get hot," he said. Larry is also somewhat obsessed with sound systems, audio and stereo equipment. He has made sure there can be music heard in any corner of the castle. "Larry's so into all that techie stuff," Lyn said. "He said he was going to make it so we could hear our music in the middle of the lake."
Larry said as long as he can "blast In-A-Gadda-Da-Vida" (a rock song by band Iron Butterfly released in 1968) while he's in the hot tub, he'll be happy. Larry said the inspection of the home for the permanent occupancy permit was done by the Gunkels' contractor, Randy Strebig, and Steuben County building commissioner Don LeBrun. "I waited next door at the neighbor's house while they were doing it," Lyn said. "I couldn't look." But now, the Gunkels proudly and happily take visitors on tours of their castle. The house boasts three floors — five if you count the 6-foot, 5-inch "crawl space" and the decks on the roof — along with an elevator, a game and exercise room, several television sets, a stone fireplace and a 10-person hot tub.
There are decks off practically every room on the outside walls of the house, and there is a panoramic lake view from every window. "I won't mind working in the kitchen now, because the window above the sink gives me such a pretty view," Lyn said.
Now that the building is done, the house is leak-proof and she is living there without having to worry about being evicted every 90 days, Lyn said the "fun part" of being the lady of Laralyn Castle is beginning. "I'm decorating now," she said. "Of course, I have to watch what I spend now, but I can do it. I buy a lot of things at Shipshewana, antique stores and auctions."
The Gunkels, who will celebrate their 21st anniversary soon, never had any children of their own. But they said they are looking forward to sharing their home with their many nieces, nephews and friends. "We are going to be able to do such cool things for the holidays," Lyn said. "Christmas will be great. And Halloween. We can turn it into a haunted castle." Larry seemed excited about that too. "Yeah, Halloween, will be cool," he said. "We're going to have fun with it."
Back to "Castles of the United States"

A special thanks to Larry and Lynn Gunkel for sending the photo.