UNKNOWN CASTLE
RUNNINGWATER CASTLE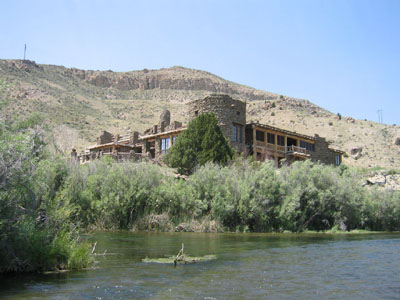 On 9-29-06, I received E-Mail that said:
I lived in Montana for years and on our trips south we would see a castle being built near the Clarke Canyon Reservoir around Lima area south of Dillon. ( I know that is a big area but I cant remember the exact location) It is a huge structure. Its on the West side of the Highway and is Quite pretty Sort of Golden rock if I am remembering correctly, any Information about it would be fun to know.
On 4-16-07, I received E-Mail that said:
The "castle" in Dillon, MT (50 miles south of Butte) is new within the last few years. It was built on the Beaverhead River (great trout fishing) by a bigwig from Microsoft but it might have a new owner. It is a gothic rock construction that is definitetly out of place for the area but is impressive nonetheless.
On 8-15-07, I received E-Mail that said:
This castle was featured on T.V on 08/14/07. On your website, you have it listed as unknown name. The name of the castle near Dillon, MT is called Runningwater Castle. It is owned by a Microsoft guy. It is very beautiful both on the inside and outside. It gets its name from a stream that run through the house in the back. The house also has running waters down the walls as you take the winding stairs to the basement.
On 11-25-07, I received E-mail that said:
The castle was sold by the Microsoft person to another party who then sold it to clients of our gallery. They are from Missouri and are very private but wonderful people. The inside was completely re-decorated, and portraits of the castle were framed by our gallery to hang within the castle. The photo on your website certainly does not do it justice. It's a beautiful setting.
On 1-18-12, I received e-mail that said:
I found another photo of the castle in Dillon, MT...
http://www.flickr.com/photos/rockrabbit/4544011094/in/photostream/
"Photos on the flickr page this link leads to courtesy of Richard W Galloway, owner of Rock Rabbit Photo"
Back to "Castles of the United States"

Thanks to John Freedman for sending the photo.