UNKNOWN CASTLE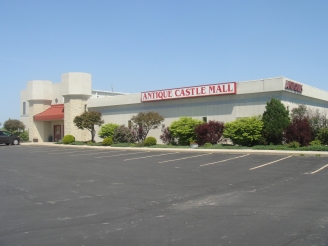 I received E-Mail that said:
I know of one "castle" not included in your website list. In Sturtevant, Wisconsin, there is a commercial building called the "Antique Castle Mall" which houses an antique mall, coin shop, and an upstairs apartment for the owners. From the outside, it looks like a castle. It is on the frontage road next to Interstate Highway 94, along the stretch of road between Chicago and Milwaukee. Its address is 1701 SE Frontage Rd. and telephone number is 414-886-6001.
Later, I received E-Mail that said:
The "castle" in Sturtevant isn't a castle at all. It was a cheese house/restaurant/giftshop and a facade was added a number of years ago to resemble a castle.
On 7-13-14, I received e-mail that said:
The Unknown Castle In Sturtevant,Wisconsin Is just a mall Called the Antique Castle Mall
Back to "Castles of the United States"

Thanks to chloeallred608 for sending the photo.