ROCK CASTLE ??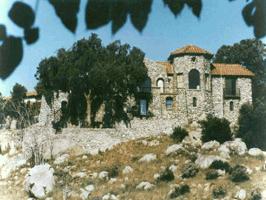 I received E-Mail that said:
I moved to the Perris area of Riverside County California about a year ago, I noticed a building near the I-215 off ramp that certainly looks like a castle. As a US service member that spent five years in Germany visiting many of the castles there, I think I know a few things on the subject.
Anyway, the Real Estate section of the Sunday, September 3, 2000 issue of the Riverside Press-Enterprise, provided a picture and this information about the house:
"More than 300 tons of river stone were used to build the landmark Perris home known as the rock castle. The 4,000-square-foot house sits on a rocky hilltop west of the I-215. Built in the 1920's for $75,000, it was auctioned during the depression for the depressed price of $6,500. Its for sale again, and the asking price is $795,000."
The caption under the photo in the paper says, "One of the rock castle's floors is 85 feet long."
I understand the castle is now for sale for just under $800,000. Some of the information from the realtor is:
246 Lomita Drive.
UNIQUE 72 YEAR OLD HISTORIC ROCK CASTLE
• HIGH ON A HILL SURROUNDED BY 26 ACRES
• A COMMANDING VIEW
• FAA HELIPORT & HANGARS
• RENOVATED - REMODELED & RESTORED
• EXTENDED GAR. WORKSHOPS GUEST QTRS

One of a kind historic Rock Castle built with 300 ton of river rock 6 ft. walls huge wine cellar & separate guest qtrs. RV garage & workshops. Land can be purchased separate. Possible 36 acre with subdivision. All offers considered.
Later, I received E-Mail that said:
I have heard from various people for about the last 20 years that at one time Vincent Price had lived in the Rock Castle. Have you heard whether this is true or not I would be curious to know.
Later, I received E-Mail that said:
I was born and raised in Perris, CA and remember "the rock castle" well. My grandfather drove trucks hauling rock for its construction and my mother said she once babysat there as a young girl. I remember her saying she was impressed with the ornate (gold?) fixtures in one of the bathrooms.
Although an interesting landmark, I never knew who owned it or knew anybody who lived there. In the early 60's there was a rumor that the actor Richard Boone (of the TV show "Have Gun Will Travel" fame) had bought it, but as far as I know he was never seen there or even in the Perris vicinity.
Later, I received E-Mail that said:
My dad is from the Reynolds-Bernasconi families. When he was a little boy growing up in Perris in the 1940's, he and his buddies helped build the walkway of the Rockcastle by getting rocks and hauling them up there on their tricycles and wagons. He says the name of the people who built the castle were John Lewis Ragsdale and his wife Ada. Some people named Elickson (????) lived in from 1953 until 1961. Then some people named either Kriger or Kruger had it. Don Imus also lived in the Rockcastle.
Later, I received E-Mail that said:
I recently visited your site and I found your information on the rock castle interesting. I went to a home pricing site and it told me the last sale date for the castle was in july, 2001 and the castle sold for $920,000. I hope my information is accurate.
Later, I received E-Mail that said:
WHEN I WAS BALLOONING IN THE PERRIS CALIF. AREA IN 1981,82 AND 83 I WAS PRIVILEGED TO BE INVITED UP TO THE CASTLE IN PERRIS. AT THAT TIME IT WAS OWNED BY A MAN AND HIS WIFE. HIS NAME WAS FRED KRIEG. FRED WAS A COMMERCIAL AIRLINE PILOT, BUT I CAN'T REMEMBER FOR WHAT AIRLINE. HE WAS ALSO A HOT-AIR BALLOON DISTRIBUTOR FOR RAVEN BALLOONS. HE ALSO HAD A HELIUM BALLOON WHICH HE FLIES SEVERAL TIMES A YEAR IN BALLOONING EVENTS. THE NAME OF HIS HELIUM BALLOON IS THE "DESTINY"
Later, I received E-Mail that said:
The Rock Castle in Perris California was build by my fathers aunt and uncle. With the exception of Thelma, The builders daughter, My father is probably the last living person that had spent very much time in the house when it was first built. I have not heard from Thelma in several years. She was born in 1915. I don't know if she is still living. My father played their when he was a little boy. He will be 81 on the 15th of this month. I was in Perris last week and visited the house and was allowed to go inside and take a few pictures. My father is hoping to go out to visit in the area within the next few weeks. He is hoping to be able to visit the rock house.
Back to "Castles of the United States"

Research for this page done by Joel E. Thomas.