DORSEY MANSION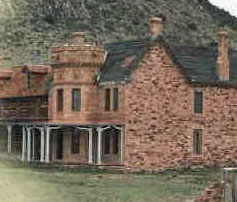 I received E-Mail that said:
The Dorsey Mansion between Clayton and Springer, New Mexico has a log original section but the main section is in a rather "castle-like" style.
I was able to find a web site that said:
For a fascinating side trip, stop at Dorsey Mansion, a storybook castle and monument to the dreams, ambitions, calamity and eventual poverty of its owner, Senator Stephen W. Dorsey. Winter hours are limited, so call first, 505-375-2222.
Later, I received E-Mail that said:
As for the Dorsey Masion, I have access to pictures of the beautiful Mansion. It is very correct when you hear that it has the appearance of a medieval castle, for it has beautifully constructed gargoyles and other carvings upon the rammparts. The garden contains a majestically designed 'pond' with an island in the center. On the island rests a gazebo and there is a stone bridge which connects the island to the 'mainland'.
Sadly though, it was a bit overrun by vegetation the last time I was there. There have been some people who have interest in renovating the Mansion to its original appearance. In actuality, one must make a reservation to see it no matter what time of year it is. The winter months make the accessibility a bit near to impossible since part of the trek is by dirt road.
Later, I received E-Mail that said:
Hi, I found your web page and saw that you have some information listed on the Dorsey Mansion, in New Mexico. I am the present owner and have been since 1987. We have done a lot of renovations/restorations and now have a castle of 36 rooms, 10,000 square feet for people to tour. I now have a website for the dorsey mansion.
Click here to visit that website:
Dorsey Mansion
To return to this page, click on the BACK button.