CASTLE ON THE DELAWARE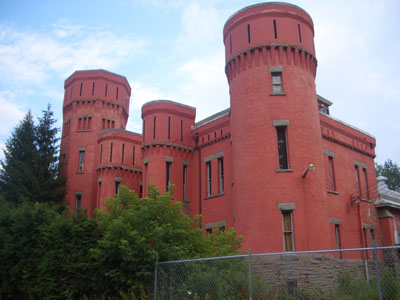 On 7-27-05, I received E-Mail that said:
I have a picture for you of a castle in Walton, NY The castle is in the middle of town on rt. 206 I am not sure of the history; I am going to go to the chamber next time I am in town. I have heard that it was once a restaurant, it stands next to the old grange. It is currently vacant and has been for a while at least 5 years that I have been visiting the area.
On 7-23-06, I received E-Mail that said:
The unknown castle in Walton, New York is a former armory.
On 5-10-13, I receved an e-mail that said:
Hello, I recently found your list of castles, and was surprised to see the one in Walton, NY listed. I live a few minutes away, and while I don't know it's complete history, I know it started as an armory, and currently sits unused and uninhabited. It was at one point a restaurant, and I was able to locate this website which has a bit more information on it.
http://www.dcnyhistory.org/walton_armory_1897.html
http://www.dcnyhistory.org/schultz_walton2.html
http://dmna.ny.gov/historic/armories/WaltonStocktonAvenue2.html
Hope this information can be of use, felt the need to help fill in some gaps, being that I pass this at least once a week.
On 3-24-14, I received e-mail that said:
Jim, I just stumbled on your website about Castles of the US while seeing where our "Castle" comes up in a search. I am the webmaster for the Castle on the Delaware, a restored armory in Walton NY:
http://castleonthedelaware.com
Castle on the Delaware is now a full-fledged cafe and events venue owned and run by Mustafa and Olena Sav.
Back to "Castles of the United States"

Thanks to Maryann for sending the photo.