UNKNOWN CASTLE- BREIDENHART CASTLE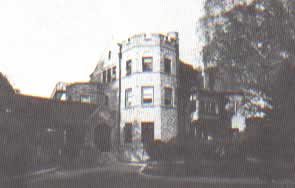 I received E-Mail that said:
I think there is a "castle" or at least a building in Moorestown, NJ. that may qualify for you castle collection. The building is now the main part of the Lutheran Home here and certainly is a beautiful building even though somewhat smaller then most you have on your website.
Later, I received E-Mail that said:
I am familiar with the Luteran Home building in Moorestown, NJ. It is a large building and it is beautiful as are many structures in Moorestown. I do not, however, think it in any way qualifies as a "castle". I used to work there part time so I've been inside. It houses the administrative offices and a library of old books.
Later, I received E-Mail that said:
The "castle" in Moorestown, NJ is really a beautiful stone manor built in the late 19th century by non other than the gentleman(Samuel Leeds Allen (1841-1918)) who invented the 'flexible flyer' wood and metal sled! The hill across from his house is where he tested his creation. This manor house is now part of the Lutheran Home (nursing home). here is a link to a good site about Mr. Allen : http://www.co.burlington.nj.us/info/history/township/moorestowntownship.htm

INFO:
Lutheran Home At Moorestown,
255 E Main St,
Moorestown, NJ 08057
(856) 235-1214

On 11-7-13, I received e-mail that said:
I wanted to let you know that I found information about the "unknown" castle in Moorestown, NJ. It was called Breidenhart Castle. This was taken from the website of Lutheran Social Ministries of NJ.
to http://www.lsmnj.org/news/grace-assisted-living-center-opens-in-moorestown-new-jersey
Back to "Castles of the United States"