UNKNOWN CASTLE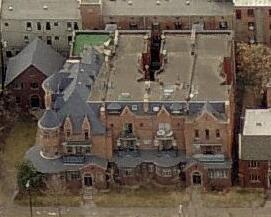 I received E-Mail that said:
I used to live in Denver and actually had a friend who lived in an old castle turned into very nice condos. Sounds cheesy but it was really cool in there. The character is pretty much unaltered aside from paint on the inside, the outside still definately looks like a castle. We explored a little, it was big and had two "sides" that were connected. I heard it was built for two sisters. One lived on one side and one on the other and the two sides were very similar but had some differences. It has beautiful balconies from what I remember. This was like '96 when I saw it. It had low windows from the inside and had a lot of turets along with interesting doors. A lot of character. Just what you'd expect in a castle! The address is: 1421 Pennsylvania St. Denver CO.
On 4-28-05, I received E-Mail that said:
I read a piece about an "unknown" castle at 1421 Pennsylvania St. in Denver, Colorado, and I know about this place, so I would like to offer the background info. It was built as 4 exclusive townhouses (connected) in the 1890s, and was called the Charline. Over the years it was split up into as many as 24 apartments. Now it is (I believe) 12 units and are either apartments or condos.
On 5-17-05, I received E-Mail that said:
My husband works near that intersection and I've often admired what that neighborhood used to be. Several of the old mansions near the state capitol building have turrets etc, but I would call them mansions rather than castles. This area is near the Molly Brown Mansion (maybe just locally famous?).
On 10-24-07, I received e-mail that said:
I searched on Windows Live Maps 3D and found the house listed at 1421 Pennsylvania St. in Denver, Colorado. Here's a photo from the satellite photos on the website.
Does anyone have more information?
Back to "Castles of the United States"