WILLIAMSWOOD CASTLE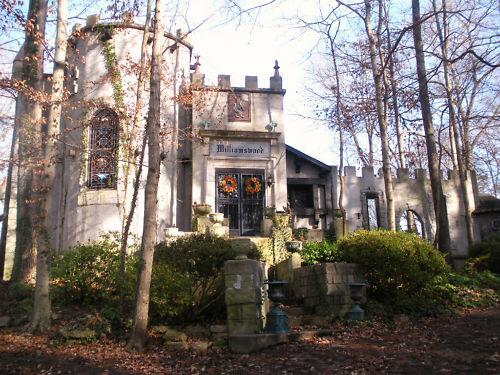 On 11-29-10, I received E-Mail that said:
This is the link to a Nashville castle on sale on eBay as of November 2010 for $1.49M.

http://cgi.ebay.com/CASTLE-ON-THE-RIVER-WILLIAMSWOOD-CASTLE-KNOXVILLE_W0QQitemZ120649379475QQcategoryZ12605QQcmdZViewItemQQ_trksidZp3286.m7QQ_trkparmsZalgo%3DLVI%26itu%3DUCI%26otn%3D3%26po%3DLVI%26ps%3D63%26clkid%3D5303576027536196857

From the E-bay listing:
A picture is worth a thousand words so this is the link for Williamswood pictures at webshots:http://www.webshots.com/search?query=williamswood&source=chromeheader&queryChannel=home-and-garden+Also pictures are posted on my Facebook under Mac Powell
This is a piece of art you could call a home. It is secluded but close to everything in Knoxville. It is on a side channel of the Tn. river. It has a pontoon boat/dock we use for fishing and parties. There is abundant wild life from otters to eagles.
The Castle is perched above the river and a 2 story deck gives a great view up and down the river.The property is gated with an automatic gate. It is 5000 sqft., 3 baths, 3-4 bdrm. plus chapel. The Castle features over 40 stained glass windows, marble and slate floors, theme rooms like the hidden room and the Scottish room and the unbelievable master suite with the library around the top of the room and jetted tub with a hot tub viewing the river.The main room is straight out of a Scottish hunting lodge and the Black Dog Pub looks like it is an Scottish pub. The roofs are flat and can be used for multiple purposes. The brick drive is a piece of art with the fountain in the middle.
Two gazebos and a natural amphitheater setting is part of the property. Next door is a 300acre Nature preserve, Ijams nature center that has miles of trails, 2 old quarries, and you can spend all day and more exploring. Also it is on the green belt which is a bike/walk trail that goes all over Knoxville including to downtown, only a few miles way.
This could be a TV or movie set, B&B or just a getaway/retreat or home. It is furnished. You must qualify to even see it, we will not wast time unless we know you have the resources to deal. We may part trade for income property or Hawaii property. Airport for private jets is very close. I will be available Thanksgiving week to show and special arrangements can be made after that. Don't contact the owner, she is reclusive, I am her son, Mac Powell, 865 274 6090, 936 569 2702 my face book link:
http://www.facebook.com/people/Mac-Powell/100001125901014 Here is the link for the webshot pictures: http://home-and-garden.webshots.com/album/570160609FGGNud
Back to "Castles of the United States"