DEWEY CASTLE ??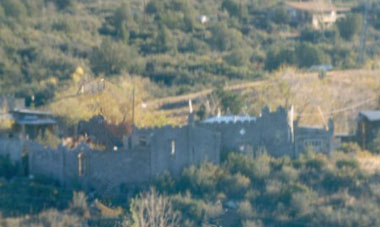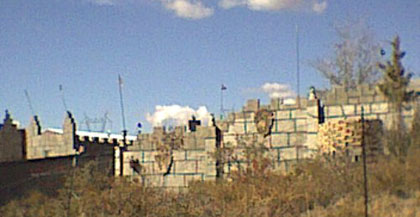 I received E-Mail that said:
There is one other one I know of that is a small private residence in a smaller town S.E. of Prescott Valley. Although it is small and the owner obviously built it himself, he did build "His Castle".
The photos aren't good because I couldn't find a good place to take them from, with the 2 not so great digital cameras I have. The Castle front sets real close to the road it is on and is right on the top of a hill and the road makes a 90 degree turn right in front of the Castle. The Castle is built along the top of the hill away from the road. The walls are mostly standard 8"X 16" concrete block surrounding a courtyard with rooms buit along the inside of the wall. There was a large construction trash roll off dumpster right in front of the gate so I think there is some major work going on inside the walls.
Today I got a good look at the Dewey Castle ? from the front. I'll be darned the man has a small mobile home hidden in the courtyard between the otter main wall and another wall inside to hide the mobile from courtyard view. County property records (online public record) show there is a 560 sq/ft 1996 mobile home on the property. I called it the Dewey Castle because that is the little town it is in. It appears the owner started his castle in 1996 on 3.89 acres. The front of the castle, which appears to some sort of interlocking panels on the front to make it look like large cut stone masonary and not just smooth concrete block. You can see the interlocking panels best on the left of the courtyard gate that goes up to hide the small mobile home from view at the castle's front S.W. corner. The interlocking panels maybe fiberglass, just guessing.
Back to "Castles of the United States"

Photos and information courtesy of Paul Guyatte.