CASTLE ROCK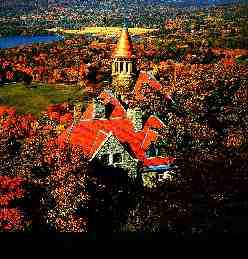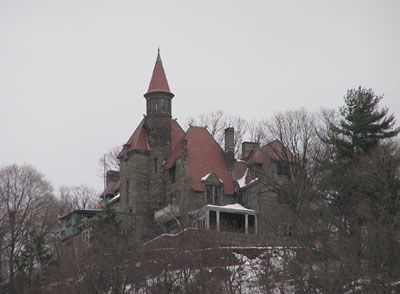 I received E-Mail that said:
Castle Rock sits overlooking the Hudson on a 630 ft high ridge just north of Sugar Loaf Hill. The house was completed in 1881 of rough-hewn stone. The owner, William H. Osborn was a childhood friend and lifelong patron of artist Frederic Church, owner of "Olana". and Church advised Osborn on the siting and landscaping of Castle Rock. When Osborn died in 1894, his son Henry Fairfield Osborn inherited the house. In 1906 he added a music wing on the west, enlarging the house into a 34 room mansion for his large family. Castle Rock stands today as a private residence. This is absolutely all that I have on Castle Rock. My source was "Hudson River Villas" by John Zukowsky.
Later, I received E-Mail that said in part:
I got this information in an article from the Garrison Library in New York. I think it was written by Marguerite Z. Herman.
The man who built Castle flock was William Henry Osborn (1820-1894). He owed his fortune to the booming expansion of railroads in America during that time. Osborn's first contact with the Hudson Highlands apparently occurred in the summer of 1855, when he vacationed at the West Point hotel with his friend and brother-in-law, J.P. Morgan. Osborn purchased a farmhouse and several hundred acres of land, including the mountainside upon which Castle Rock eventually was built. He enlarged the farmhouse several times during the years that he and his family used it as a summer home, but clearly he had something more grand and imaginative in mind. A strong influence on the eventual dramatic location and design of Castle Rock was Frederick E. Church, although the architect of record was Javis Morgan Slade. Completed in 1881, Castle Rock became the family's summer residence in 1882, after Osborn's retirement.
The castle was built of rough-cut stone masonry quarried on the property and was sited atop a steeply rising ridge 650 feet high, affording spectacular views of the Hudson and surrounding Highlands. The three-storey house is dominated by a round tower with a conflcal roof rising from a central block and can be climbed for a view that is breathtaking. Various porches and galleries on the west and south sides also look out over the valley below. The roof is red slate pierced by dormers of various sizes, some emerging from truncated gables. There are four interior chimneys for the numerous fireplaces in the 30-plus-room mansion. The six main bedrooms each has a bath and fireplace. A north wing and library on the west side were added in 1906.
In the late 1970s portions of the original property were acquired by New York as part of the Highlands State Park. In 1977 Castle Rock itself went out of the hands of the Osborn descendants and is now owned by private investors. The only completely incorrect rumor the Historical Society has been asked to scotch, one that never seems to disappear; is that Castle Rock was used in the movie "The Wizard of Oz."
Later, I received E-Mail that said:

Castle rock was not used in the movie, but to my knowledge it inspired the castle in the wizard of oz. hope that claririfes things a little, even though it's not really a fact. but hey, Wizard of Oz = OSborne?
Later, I received E-Mail that said:
I was wondering whether or not anyone would have any information on what I like to call my "Rosebud" - beneath and practically hidden under a bridge on the property (underneath the bridge is somewhat of a shed for storage) I came across a headstone with nothing more than the words: Lucreatia's Walk inscribed on it. In my research attempts all roads led to Lucreatia Mott and the women's movement but I doubt the connection due to the dates. Any response would be greatly appreciated.
Later, I received E-Mail that said:
I think I have the answer to your emailer's mystery at Castle Rock in Garrison, NY. "Lucreatia's Walk" probably refers to Lucretia Perry Osborn, Henry Fairfield Osborn's wife and William Henry Osborn's daughter-in-law. Your posting on the castle's page mentioned that the dates didn't add up to the Mott hypothesis, but, you didn't provide the dates. Lucretia Osborn lived from 1858 to 1930.
Later, I received E-Mail that said:
I read the info you have on the castle, including rumor that it was inspiration for castle in wizard of oz. I believe that is incorrect. the inspriation for the castle in the wizard of oz, is the "hotel del coronado", located on coronado island, san diego, california. it is the largest wooden structure in north america and has numerous red spires. Frank Baum, the author of the wizard of oz vacationed there on a regular basis and the many red sprials on the hotel was his inspiration. If it were made of stone, you would consider the del corodnado a castle. perhaps you would like to include it as a wooden castle? in any case, it is a very famous place ( a lot of movies and TV commercials have been shot there) and the story of it being Frank Baums inspriation appears in the hotels history wing.
Later, I received E-Mail that said:
I have yet more info surronding the urban legend that links this castle and the wizard of oz. It seems that Frank L Baum was a student at West Point. From there,one can clearly see the castle. He hated school and used to daydream alot, making up stories about that castle and a witch that lived there. It's said that the costumes for the winged monkeys were inspired by the cadet uniforms. This info was given to me on a sightseeing boat, so I have no way to vouch for it,but I think it's great, true or not.
Later, I received E-Mail that said:
"Castle Rock",in Garrison,was at one point owned by Alexander Perry Osborn Jr.,who I think was a grandson of Henry Fairfield Osborn.Not sure what the chain of ownership was.
Later, I received E-Mail that said:
Hi – My husband is the son of Mary Steele Marshall (nee Osborn), whose grandfather was Henry Fairfield Osborn, the President of the Museum of Natural History, who named the Tyrannosaurus Rex, and who inherited Castle Rock when his father died. After her parent's divorce she spent a good deal of time at the Castle, with her twin sister, Anne. They had an older sister, Lucretia (named for her grandmother, and the lady the walk is named after. There is also a Lake Lucretia on the property– rather a small pond, actually) and a brother, Sandy.
Mary slept with her sister in the tower, and they were both terrified of the thunderstorms (Hudson Highland thunderstorms are so intense, they were made famous by Washington Irving in Rip van Winkle). We have pictures of the twins in matching coats, matching prams, and riding matching ponies.
An interesting point to make about the castle is that John Muir stayed there often – and wrote a book there. It is a shame that it stands so lonely and forlorn now – I would love to see the Sierra Club buy the parcel and make it into a center for disadvantaged children to learn about ecology, geology, and Natural History. I like the thought that Frank L. Baum may have been influenced by the castle for the Wizard of Oz!
Later, I received E-Mail that said:
The castle listed as "Castle Rock" has a nickname known to many in the area....the beautiful building has long been affectionately called "Santa Claus's House" by many people.
On 5-15-06, I received E-Mail that said:
I got a chance to go to Garrison NY this winter and got a pretty good picture of Castle Rock..I have admired that great mansion everytime I past it by but was never able to photograph it. I just thought you would like the picture.
On 7-1-14, I received e-mail from Jeff Wagner that said:
More info to add to Castle Rock/Osborne Castle. Garrison, NY.
http://www.scoutingny.com/a-visit-to-castle-rock/
Back to "Castles of the United States"

Second photo courtesy of Matt.