UNKNOWN CASTLE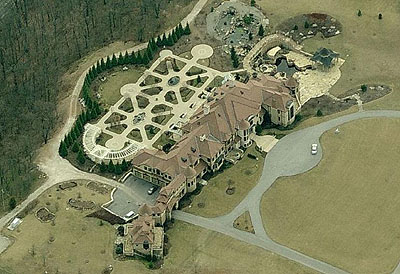 I received E-Mail that said:
I have some news for you, apparently there is another castle going up in PA, I'm not exactly sure its exact location but i do know it is in hanover which is 30 minutes away. apparently the guy is really rich and he went to England and bought a castle an had it shipped over here block by block, from what I was told from the ambulance drivers the castle is almost completed.
Later, I received E-Mail that said:
I read with amusement the listing of a "castle" now purportedly being built in Hanover, Pa. I suspect that the reference is to the grandiose residence now being constructed for the proprieters of the Utz snack food company. This home is being constructed not in Hanover itself but rather north of town, just outside of the town of New Oxford on one side of the property and the village of Irishtown on the other. One can see this structure rather clearly from the road, but I am not sure it will end up looking so much like a castle as like a large institution. Perhaps I am being uncharitable, since the jury must remain out until the structure is finished.
On 10-3-06, I received E-Mail that said:
I just visited your website and saw an entry about a 'castle in Hanover.' Ever since I have lived in New Oxford (15 years) there has been a beautiful house up on a hill on Hanover Street just outside of New Oxford. The home belonged to the Rice family, owner's of Utz Quality Snacks. Apparently their huge home wasn't huge enough and they had it demolished. In it's place now stands a huge mansion. The town rumor was that it was a castle being shipped from Europe. Not true, it's just a wonderful mansion on a wonderul hill with a wonderful iron gate. This is a small town, when something as grand as this is done (knocking down your already immaculate home to build a mansion about four times the size) it sparks some rumors...
On 1-25-08, I received E-mail that said:
I was surfing the web and came across the forum on the Utz Mansion. This home does actually belong to the rice family. They are the owners of Utz Quality Snacks. The low down is that some of the stone used in the building itself is from a castle in Europe. It was shipped in. This home is not really a castle, but it is big enough to be considered one. To obtain a picture of it go to the website www.local.live.com and in the search bar type in 827 Hanover Street, New Oxford, PA. Then click bird eye image and you can get a picture of it while in construction. It is immaculate. The family did demolish their old mansion to build this one. It is well visible from the road in itís entirety. The massive gated entry and the private drive in the back leading up to the house is also visible. There is also a guest mansion on the premises, ponds, and a horse stable with race track.
On 1-12-12, I received e-mail that said:
I saw that there was one listed for Hanover, PA, which is where I now live since 2003. I know exactly the castle you mentioned where someone went to England and bought one and is having it built in Hanover. I even know where, but it's very private and can't be seen from the road. It is a son-in-law of Pete Sheppard (Pete owns and runs RH Sheppard) who is having the English house/castle built. The daughter to whom he is married runs the Sheppard Mansion Bed and Breakfast in town, also owned by Pete. I would love to have a little plane to fly over and see that place as it must be completed by now. People who can hire the work out seldom have to wait so long to enjoy it.
Back to "Castles of the United States"