CASTLE RESTAURANT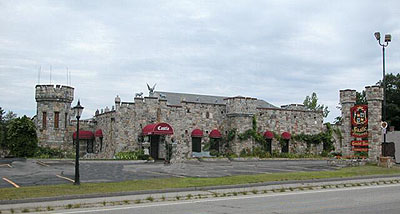 I received E-Mail that said:
There's also a "castle" type restauraunt located in Massachusetts on Rte. 9 between Worcester and Ware, Mass. I believe. Unfortunately, I don't have further information about it.
Later, I received E-Mail that said:
Dating back to 1722, the first grist mill was built by Joseph Parson on this site. Other enterprises following the mill were, a brick building, operated by Co. J.D. Sargent and E. Sargent, Manufacturing card clothing; the second school house in the town; a hearse house and a power station; a restaurant and two trolley barns owned and operated by the Worcester Street Railway, which were torn down in 1933. In 1937, the present building was erected of field stone resembling the Morro Castle in Havana, Cuba. In 1966, the new addition was built by the Nicas Family with the stones and lumber for the new building coming from the former Public Library, Y.W.C.A. and Elks Home of Worcester.
1230 Main Street, Leicester, Massachusetts 01524, (508) 892-9090, 892-9088 or 892-8000
Later, I received E-Mail that said:
I am sending a photo of the Castle Restaurant in Leicester, Massachusetts. Their web site www.castlerestaurant.com is defunct.
I might add to the information already on the website by saying that this "castle" is nicely situated on a lake which gives it a nice feel. I've never eaten there.
Later, I received E-Mail that said:
The castle is rated the best restaurant in MA, there web site is alive at www.castlerestaurant.com
I ate there and indeed the food is fabulous
Back to "Castles of the United States"

Photo courtesy of Duane L. Mitchell.