CANADIAN LAKES CASTLE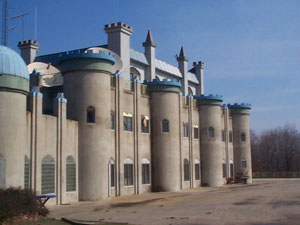 I received E-Mail that said:
Also, there is a castle at Canadian Lakes in Stanwood Michigan. The developer built it for himself.
Later, I received E-Mail that said:
I was just surfing and happen to see your listing of an unknown castle in Stanwood, Michigan. I grew up about 4 miles from that castle. My husband and I went to all our proms there. It is a grey cement structure, storybook type castle overlooking one of the many golf courses in the development. It took years to build and was quite a topic of conversation as you can well imagine. The developer (I worked at one of his restaurants) was a nice guy, not ecentric at all. Just a guy who bought some land, built lakes, houses, and recreation...add a castle to talk about and he's a millionaire. He and his family lived in the top part and rented out the ballroom and reception rooms. It's also used for certain development functions.
Later, I received E-Mail that said:
This castle was built by the developer of our recreational/retirement community. Canadian Lakes is about 6000 acres in size with about a dozen lakes, indoor pool, oudoor pool, many tennis courts and 2 nine hole golf courses as well as 2 (soon to be 3) 18 hole golf courses. We have several clubhouses of which the castle is the primary clubhouse. It has three floors, the bottom being open for use bingo, membership meetings, potlucks and has a stage for plays and musicals. The second floor is a balcony and storage. The third floor has very nice accommodations and was lived in by the developer. The development company turned over the castle and other common property to The Canadian Lakes Property Owners who now run the development.The third floor is now unused. The picture was taken along the south side of the castle.
Later, I received E-Mail that said:
The castle was built by Donald Boleman who created the lakes around 1962 to 1963, over looking what is now the Highland gold course. The lakes started as swamps, owned by farmers. Donald would offer the farmers some sort of compromise if he could have there land to turn into a lake. The year of 1962, trees were cut from the swamps and near 1963 the swamps were flooded and cottages, or in some cases because of there size, houses, were built.
On the main, all-sports section of Canadian Lakes, there are 4 lakes (East Canadian, Main 'Big' Canadian, West Canadian, and Far West Canadian), all of which connect (2 lakes connected with bridges). There are 3 gold courses (Royal, Pines, Highland). There are also 2 non-Canadian Lakes owned courses (St. Ives and Tullymore), which share their owner and have been featured in magazines (Tullymore in 'Golf' or something of the like for course design) and been rated top in Michigan (St. Ives for it's pro shop). All members of Canadian Lakes have access to the 3 golf courses, an indoor and outdoor pool, tennis/basket ball courts, as well as other amenities.
Later, I received E-Mail that said:
Just to let you know..the castle in Canadian Lakes was built many years ago by the owner of the local construction company. He built it for his wife, his name is Bob.
On 8-30-13, I received e-mail that said:
When I was small, my parents owned a small restaurant, that had previously been owned by my grandfather, Jack Panek. Mecosta is about 5-6 miles from Canadian Lakes.
My father knew the owner and developer from the castle since my grandfather owned the restaurant. My dad said he was a kind man and came for breakfast and coffee every day in the later years of his life in the early 1990's.
I remember a few months or about a year ago, my father told me about Mr. Boleman, and what he did before he built the castle. He was in fact a millionaire. He played baseball for a team of which I don't remember the name of, but he broke both his arms (or legs) in a tractor accident. His money came from playing baseball. He isn't well known, and had only played a couple seasons.
He moved to Canadian lakes and bought the property. My dad said he built the castle for his wife. I have heard different stories about where the castle came from and some say it was from Ireland. The castle was built by Don and it wasn't from Ireland. He designed and constructed it.
When he died, he left it to his son, who sold it to the Canadian Lakes area. Now, its used for community events and etc.
Back to "Castles of the United States"

Picture sent in by Cliff Whitfield.