ASHLER HALL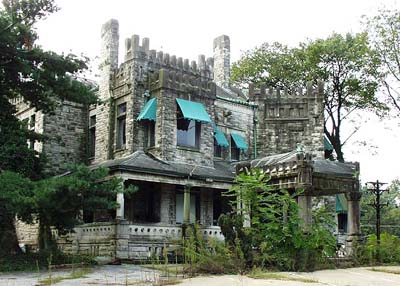 I received E-Mail that said:
Ashlar Hall is located at 1397 Central Avenue, Memphis, TN. It was constructed in 1896. Although it sits in the edge of downtown Memphis in what is now known as the Central Gardens part of mid-town, when this house was built by the Snowden family it sat in the country surrounded by the Snowden family farm which at the time this castle was built extended from Memphis into a good part of Mississippi. It is called Ashlar Hall due to it being constructed almost entirely of Ashlar Stone.
There are still members of the Snowden family alive in Memphis who remember spending summers in Ashlar Hall as it was cooler than staying in the city during the hot and humid summer months. I don't know how, but it came to be owned by the Holiday Inn Corporation and sat abandoned for many years being used only as a haunted house (run by the Jaycees) until Steven Dunlap bought it and restored it early in the 1990's. He turned the downstairs into a fine dining restaurant and lived upstairs. He later sold it to Prince Mongo, a local and VERY VERY eccentric millionaire who insists he is a Prince from the planet Mongo and travels everywhere with his invisible dog. He runs for Mayor (and loses) every term. The last I heard he had finally after years of legal battles with the neighbors, been run out of the neighborhood and is residing in a suburb. I do not know the current fate of this house. This photo does not accurately show the turrets and incredible Ashlar stone work of this castle. The back of it is much more impressive as it looks out onto Lamar avenue. I hope you found this interesting. This house has always been fascinating to me.
On 3-9-08, I received E-mail that said:
Ashlar Hall in Memphis is now up for sale as a multi-purpose property. I hate to see it in such a state of decline and fear for its future. I would love to see someone buy it back and do something great with it and fix it up. Here is the link for the sale of the property. http://www.maarcommlink.com/jsp/listings/listing_overview.jsp?listingID=1522828
Back to "Castles of the United States"